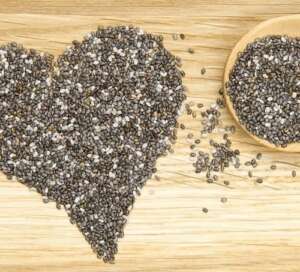 This week our guest blogger is Michael Feldman, a freelance journalist from NYC. His article looks at the amazing health benefits of chia seeds.

Not only does he explain the science behind them but he goes into more depth detailing how they contribute to weight loss, aid digestion and provide glowing skin and strong bones. 

We've linked some of our very own recipes throughout the article; the warming chia seed porridge will be a perfect breakfast now the weather has suddenly turned chillier on us.
If theres anything as close to a superfood, its chia seeds. This tiny superfood holds a massive repository of benefits. To all the folks who had enough of skincare and health issues, chia seeds are going to be a lifesaver for you. If you want to get amazed, read these nutrition facts and incredible powers this tiny wholesome thing contains.
Historic grandeur
Chia was an ancient Mayan word that means "strength". Chia seeds have an ancient history as a dietary staple. They have long been lauded for their energy-boosting capabilities since back in the days; now, they are scientifically proven as a modern-day superfood.
Nutrition facts
Chia seeds are from the mint family, but let us dig into what is inside a chia seed that allows it to qualify as a superfood. Chia seeds contain magnesium, potassium, calcium, fiber, zinc, proteins, manganese, phosphorus, and vitamins (B1, B2, B3).
Two tablespoons of chia seeds (about 28 grams) supply 137 calories only and 1 gm of digestible carbohydrate. So, it is a show-stopper for a calories-restricted diet. If fiber is subtracted from this calorie count (as fiber plays no significant role as usable calories), then chia seeds supply only 101 calories per one ounce.
The best thing about superfood chia seeds is that they are naturally gluten-free and Non-GMO. Additionally, they are whole grain food as they are mostly grown organically.
Rich source of antioxidants:
Consuming antioxidants from food sources is the safest intake of antioxidants. Chia seeds are enriched with antioxidants that fight free radicals and prevents ageing and cancer.
Aids weight loss:
Chia seeds will act as a viable aid to your weight loss journey. Scientific research has not yet established a direct correlation between these super seeds and weight loss, but there is no denying the fact that they aid in weight loss. Even without evidence, they are being used in many Asian regions (along with other herbs and water) for weight loss.
The biggest reason is that chia seeds curb appetite, and that is how they contribute towards weight loss. When they are inserted in water, they get a gooey texture and become a little bigger. Due to high fibre content, chia seeds keep you fuller for longer. The abundance of proteins in chia seeds also helps in cutting down the amount of food you eat.
Try making this Warm Chia Seed Porridge
Aids digestion:
If you want a superfood that can perform all the miracles for you, then chia seeds are your answer as they also improve digestive functions. High fiber contents of these small seeds help to improve your digestive function and reduce bowel irritation.
Detoxify your body naturally:
Chia seeds detoxify your body in such a way that they help get rid of body toxins. Their anti-inflammatory qualities prevent and repair cellular damage. These super seeds also detoxify naturally by helping the body to consume more nutrition from food and produce less waste to remove.
Leads to a happy heart with Omega 3:
It is an excellent source of omega 3 in combination with trace minerals, and anti-inflammatory properties. These superpowers tend to lower blood pressure and prevent hardening of arteries. Omega 3 also supports cardiovascular health.
The omega-3 fatty acids and high fiber contents of chia seeds help to reduce harmful cholesterol levels from the body. So, have a healthy body and a happy heart with chia seeds. Chia seeds are also recommended in stage-2 diabetes because of their ability to maintain glucose level.
Your skin will be loving it:
Who in his right mind doesn't want glowing and smooth skin? Chia seed massages are the perfect solution. Just like a saltwater hot tub soothes your body inside out, chia seeds serums will leave your skin feel like a baby. Many skincare products such as moisturisers and creams contain a substantial amount of chia seeds for smooth skin.
Age is just a number:
Add chia seeds to your skincare routine and let it do its magic. Apart from skin smoothing, chia seed serum helps in treating sunburn and removing fine lines. It also works wonders against dryness. Chia seed serum can be used to revive lips; it makes lips look plumper and fuller. The antioxidants of these tiny seeds prevent aging signs.
Strong bones:
The stronger your bones, the harder your punch! Chia seeds give 20% calcium even when consumed in a small amount, which is good enough for your daily calcium intake to fortify bones.
How to consume Chia seeds?
Now that you are fully convinced about the nutrition properties and superfood attributes of this superfood, let us see how we can include them in our diet. Chia seeds are hard to swallow dry. Don't even try as it can also cause a blockage. Before consuming, soak chia seeds in water and let them expand fully. Try blending them with drinks or foods. There are countless recipes to make them edible. Chia seeds have a mild taste that's why they get along well in most of the dessert and drinks recipes.
This recipe for Rhubarb & Berry Chia Seed Pudding is delicious.
Chia seeds in smoothies are unbeatable as they add a little chippy fun in smoothies. You can also add chia seeds in oatmeal, salad dressings, yogurt, gravy, soups, and very yummy chia seed pancakes.
Remember the amount of seeds is equally proportional to the thickness of the final product. So if you are not a big fan of gooey textures, use chia seeds as per the consistency you want. Chia seeds have a longer shelf life. They can be preserved for years if placed in a cool and dry place.