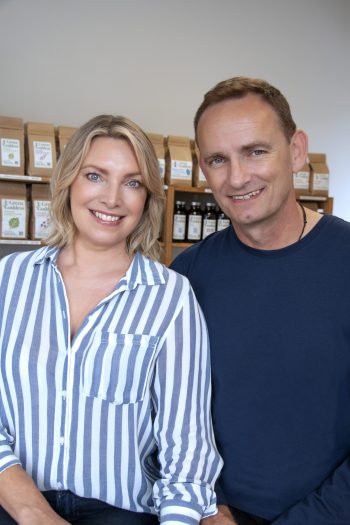 The Green Goddess philosophy is about working with things from the earth that are in tune with our whole selves – mind, body and soul." Triona
Originally created by eco warrior Wendyl Nissen in 2010, Green Goddess (formerly Wendyl's Green Goddess) was taken over by Grant and Triona in 2016, they are continuing her legacy handcrafting beautiful products that are safe to use around your home and on your body without worrying about the effects on your health or the environment.
Triona worked for Wendyl previously and now writes and coordinates the Green Goddess newsletter and blogs, is the creative force behind new products and enjoys sharing her knowledge at wellness events and expos.
Grant provides the expertise behind the scenes making sure everything at Green Goddess runs smoothly. He is hands on with just about everything and ensures all processes run smoothly and to the highest standard from manufacturing to procurement and distribution. Having previously managed many large companies Grant has stepped away from the corporate world and is now enjoying a better pace of life running the family business.
Both Grant and Triona are passionate about raising awareness of the toxins that exist in our environment and sharing sustainable ways to eliminate them.
We are paving the way in the totally natural eco market. We have been creating pure, natural, high quality products sustainably for over ten years and have collaborated with fellow eco-friendly, natural brands that compliment the range. The business is going from strength to strength as new products are created, processes are refined and the emphasis is put on looking after the customer, both retail and wholesale.
The diverse array of products are free from fillers, synthetics, phosphates, preservatives, artificial fragrances and plant derived substances – the range is scented only with pure essential oils making it hypoallergenic. Powdered products have home compostable packaging options and liquids have glass options.
For wellness articles, ideas, tips, specials and DIY recipes sign up to our weekly newsletter.