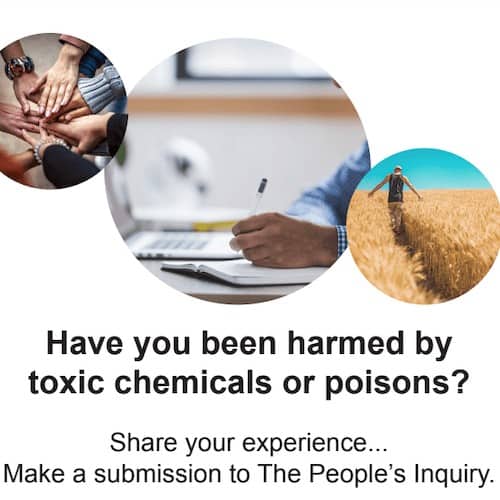 If you or anyone you know has been negatively affected by toxic chemicals or poisons consider sharing your experience with The People's Inquiry 2020. This Inquiry is for those who have been harmed by chemical exposure in agriculture, horticulture, conservation, weed management or elsewhere.
It's also for people who have witnessed harm and wish to share their story. Submissions are also open for those working on non toxic sustainable solutions.
The People's Inquiry into the Impacts and Effects of Toxic Chemicals and Poisons on our People, Wildlife and Environment. Submissions close 27th August 2021.
He Uiuinga e pā ana ki nga Pātanga me nga Tukinotanga a nga Matū Tāoke me nga Paitini ki ngā Tāngata, nga Kararehe Kōwao me te Taiao.
It's been a long time coming, (since 2019), but the Panel of Independent Commissioners has now been selected and dates have been decided for the Hearing. 
For up to date information read their latest newsletter and check out the Meet the Commissioners page on their website for more information of the expert panel, their skills and experience.
If you would like to send in a submission or are in the process of preparing a submission, please do finish and send it in as soon as you can. The submission closing date is August 27th. Read more on the Public Submission page in the newsletter.

The People's Inquiry 2020 resulted from a meeting held April 2019 which included organisers of the 2006 Peoples' Inquiry into the Impacts and Effects of Aerial Spraying of Pesticide (Foray 48B) over Urban areas of Auckland, New Zealand. Then, in mid-November a strong alliance of people and organisations gathered in Auckland to form a committee and begin plans for the People's Inquiry 2020.
The Inquiry is accepting written submissions from people in the following key areas:
those negatively affected or harmed by toxic chemicals or poisons, and those wishing to give evidence about their own experiences or situations they have witnessed.
scientists, researchers and other experts wishing to share their knowledge and expertise on the impacts and effects of toxic chemicals and poisons on the people, wildlife or environment.
those working with, or wishing to present, non-toxic solutions and alternatives to toxic chemicals and poisons in use.
Why a People's Inquiry?
Researchers and activists have been working tirelessly over many decades to create change and raise awareness around the issues of harm from toxic chemical exposure. However, the use of toxic chemicals and practices continues. The harm created is largely ignored by those in positions of authority.
This must change. They see a People's Inquiry as a catalyst for that change. They see strength in a broad environmental alliance. This alliance is focused on a paradigm shift towards our shared aspiration for a truly clean, safe and sustainable environment for all.
The Inquiry is open to everyone in New Zealand, and all people are welcome to send in their written submission. Submissions close 27th August 2021. The Inquiry will cover harm from chemical and poison exposure as well as existing and new innovative solutions to the problems of toxic chemical use. You can register your interest in making a submission here.
Donations
The People's Inquiry 2020 is not government funded. They rely on the generous donations of people like you who understand the value of this important undertaking.
Your donations help them cover the cost of running the Inquiry and The Hearing. This includes the cost of creating and running this website, holding The Hearing and costs of accommodating Commissioners and promoting the Inquiry, as well as the filming of peoples' stories etc.
Volunteer Support and Advocacy
Are you interested in helping in other ways? Would you like to be one of our team of volunteers? Wherever you are based, they will be looking for support around the country to promote and share information about The People's Inquiry 2020, as well as news and events. Get in touch to register your interest in being part of the PI2020 Support and Advocacy Team
On behalf of the PI2020 Committee