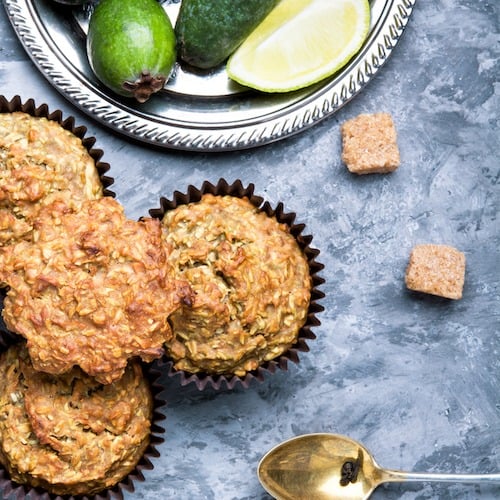 If you are lucky enough to have surplus feijoas this season these delicious dairy free muffins are a fantastic way to make use of them. The coconut and lemon flavours complement the feijoa beautifully. Katie who works with me made these the other week and they were so good!
They work well with gluten free flour and you can substitute the egg for chia seed gel (blend 3 tablespoons water with 1 tablespoon chia seeds – let it sit and gel for 5 minutes). Eat them warm or make several batches at once and keep them in the freezer for up to 3 months.
Servings: 12 Muffins
Ingredients
1 cup Feijoa flesh – 220g (7-8 feijoas)
1 lemon zest and juice
1/2 cup olive oil
1 tsp vanilla essence
1 egg
1/2 cup brown sugar
1/2 cup desiccated coconut
1 1/2 cups flour
3 tsp baking powder
Instructions
Preheat your oven to 180 degrees celsius.
Scoop out the flesh of the feijoas into a medium sized bowl and mash roughly with a fork.
Add, oil, egg, juice and zest of lemon, and vanilla to the mashed feijoa. Combine well with a whisk or fork.
In a second larger bowl, combine the dry ingredients: flour, baking powder, brown sugar and coconut. I do this with a whisk to ensure they are combined and any lumps of brown sugar or coconut are broken up.
Add the wet ingredients to the dry ingredients. Gently combine with a wooden spoon or spatula to make the feijoa muffin batter.
Spoon the feijoa muffin batter into a 12 portion muffin tin. I line mine with a greaseproof bake cup.
Optional extra: scoop the flesh from a couple of feijoas and slice thinly. Gently push into the top of the muffin and sprinkle with a little brown sugar.
Bake at 180 degrees for approximately 25 minutes.
This recipe was originally found on the 'My Kids Lick The Bowl' website.