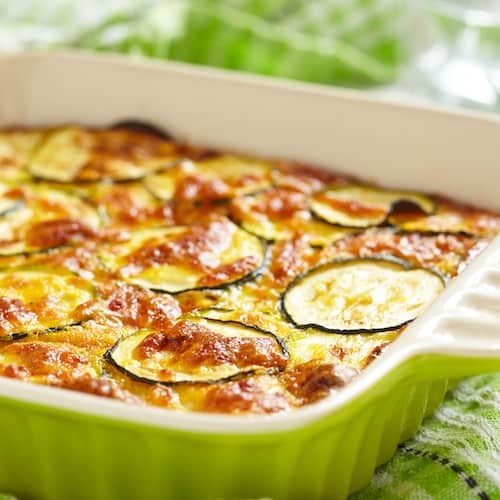 How are your courgettes/zucchini doing? Mine seem to have super growth hormones! One day they'll be regular size and the next they have morphed and become marrowesk.
Finding new and inventive ways to use zucchini before they grow out of control is a fun hobby at this time of the year. We have quite a few delish recipes on our website, two of my favourites being Tomato and Zucchini Relish and Chocolate Espresso Zucchini Bread. This dish is another way to use them and is also a good way to use up left over rice.
Zucchini Frittata With Rice Base
2 tbs olive oil
1.5 cups cooked rice
5 eggs
2 zucchini, grated and thinly sliced
2 tbs sweet chilli sauce
1 red capsicum
1 spring onion, finely chopped
1/2 tsp paprika
3/4 cup milk
1/2 cup grated cheese
salt & pepper
Method
Preheat the oven to 200°C (180°C fan forced). Lightly coat a 22 cm oven dish with oil spray.
Mix the rice with one beaten egg and press firmly into the base of the dish, you want the base to be about 1 cm thick.
Bake for 10 min until the base is cooked and has started to turn golden.
Grate most of the courgettes and squeeze out excess moisture by placing in a clean tea towel and squeezing firmly. Thinly slice the remainder, enough to put over the top of the dish.
Finely dice the spring onion and finely slice the capsicum.
Whisk the remaining 4 eggs with the milk and season with salt and pepper. Mix in the chilli sauce, paprika, grated zucchini, onion and capsicum then pour over the base. Place the sliced zucchini over the top of the frittata and sprinkle with cheese.
Bake for 30-40 minutes until the quiche is firm and the cheese is golden brown.