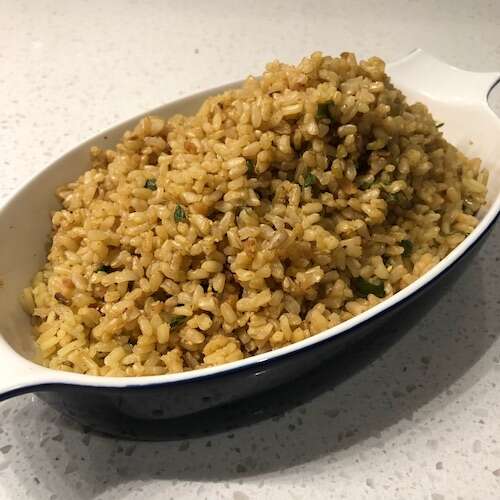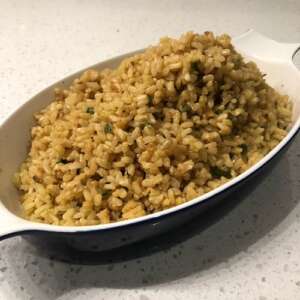 This yummy brown rice with almonds comes together quickly, it's healthy and tasty and makes a terrific side dish to curries or other main dishes. I love it served with salad for lunch, the almonds add a little crunch and the flavours of the spices are just right.
Brown rice is a whole grain, unlike white rice which has had the bran and germ removed. It's chewy and takes a little longer to cook. Packed full of fiber and nutrients; magnesium, selenium, phosphorus, thiamine, niacin, vitamin B6 and manganese, it's an excellent alternative to white rice which has very little essential nutrients.
Yummy Brown Rice
Ingredients:
Olive Oil
1 chopped onion
1 finely chopped garlic clove
1 cup brown rice
2 cups water
1/4 tsp salt
1/8 tsp each of ground coriander, cinnamon, ginger, cumin and turmeric
8 almonds, roughly chopped
4 spring onions, chopped
Method:
Put a little oil in a frying pan and add the onion and garlic and cook on a low heat.
Wash the rice and then add it to the frying pan, shaking it around until it is golden brown. This gives the rice a nice nutty flavour.
Add the water, salt and the rest of the spices, cover with a lid and bring to the boil. Simmer on a low heat for 40 to 50 minutes.
When all the water has disappeared and the rice is fluffy and soft, stir in the chopped almonds and spring onions.
This is great with a curry or just on its own for lunch.