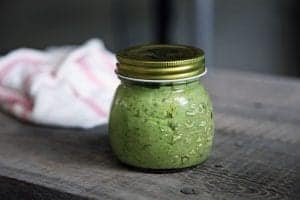 I like this more than the pesto you make using parmesan cheese. You'll need to get hold of some nutritional yeast or yeast flakes. Most health food stores will stock it. I really encourage you to try this, it is absolutely delicious.
Try serving it mixed in with pasta, a handful of toasted walnuts and a little bit of the pasta cooking water, it's sensational.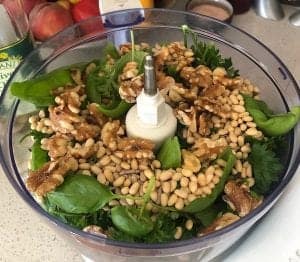 Dairy Free Pesto
1/4 cup (68g) Pine Nuts
1/4 cup Sunflower Seeds
1/2 cup (50g) Walnuts
1/4 cup (60ml) Olive oil
1 tsp Crushed Garlic
2 Tbsp Lemon Juice
1/3 cup (20g) Nutritional Yeast
1 cup Fresh Basil Leaves (Packed)
1/2 cup Fresh Parsley (Packed)
1/4 cup (60ml) Water
1/2 tsp Sea Salt
1/4 tsp Ground Black Pepper
Blend all ingredients in a food processor until well combined. Store in a jar with some oil over the top to seal in the flavour and to prolong its shelf life. Keep refrigerated.
Serve on pasta or crusty bread, add to pizza or a platter.