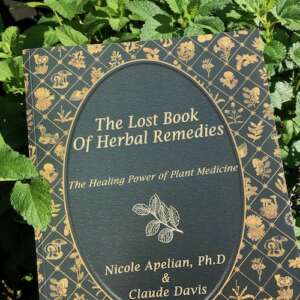 I have purchased The Lost Book of Herbal Remedies by Dr. Nicole Apelian and can highly recommend this book as a resource along with the other digital books that you receive when you order the hard copy. They contain a plethora of herbal remedies and medicinal plants, everyday disaster medicine guide, and a guide on how to create a medicinal garden.
This unique book is written by Dr. Nicole Apelian, an herbalist with over 20 years of experience working with plants, and Claude Davis, a wild west expert passionate about the lost remedies and wild edibles that kept previous generations alive. The Lost Book of Herbal Remedies has colour pictures of over 181 healing plants, lichens, and mushrooms.
Inside, you'll also discover 550 powerful natural remedies for just about every one of your daily needs. Many of these remedies have been used by our forefathers for hundreds of years, while others come from Nicole's extensive natural practice.
This book was made for people with no prior plant knowledge who are looking for alternative ways to help themselves or their families. This lost knowledge goes against the grain of mainstream medicine and avoids just dealing with symptoms. Instead, it targets the underlying root cause and strengthens your body's natural ability to repair itself. With the medicinal herbal reference guide included, it's very easy to look up your own condition and see exactly which herbs and remedies can help.
A small glimpse of what you'll find inside: On page 145 learn how to make a powerful "relieving" extract using a common backyard weed. This plant acts directly on the central nervous system to help with all kinds of pain and discomfort. You'll also discover the most effective natural antibiotic that still grows in most American backyards (page 150). Turn to page 43 for the natural protocol Dr. Nicole is recommending for a wide range of auto-immune conditions, after falling prey to MS herself at age 29. This book contains no less than 800+ other medicinal plants and natural remedies.
Dr Nicole Apelian has her own remarkable personal health journey; an unexpected diagnosis of MS in 2000 led Nicole to apply her research skills towards her own personal wellness. She focused on a healthy living strategy, including deep nature connection and gratitude practices. Through changes in her lifestyle, and using her own remedies, Nicole went from bedridden to being fully alive and from surviving to thriving.
In 2015 Nicole was among the first women to be selected for the History Channel's TV show Alone where she went on to survive for 57 days straight alone in the wild with little more than the plants that she found there.
Nicole believes that there are many more people who need to find their own remedy. This became her life's mission and the main reason for writing this book. In it she poured over 28 years of plant knowledge and her first-hand experiences of making her own poultices, tinctures, decoctions, salves, syrups, infused oils, and other herbal remedies.
Nicole also has a degree in Biology, a Master's degree in Ecology and a Doctorate that she earned while working as an anthropologist and ethnobotanist in Botswana.
When you order this book in hard copy you also receive the digital copy along with two other digital books:
Everyday Disaster Medicine Guide & 80 Square Feet Medicinal Garden Guide
For more information click here.
When ordering from New Zealand don't use the link on the main website (won't ship to NZ), use this link …
The Lost Book of Herbal Remedies ordering from NZ
The book with be send from America, total cost including digital books and freight was $67.99 USD.