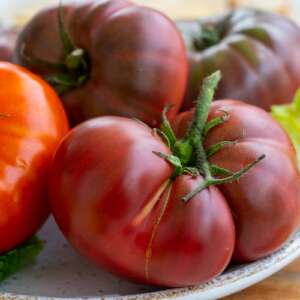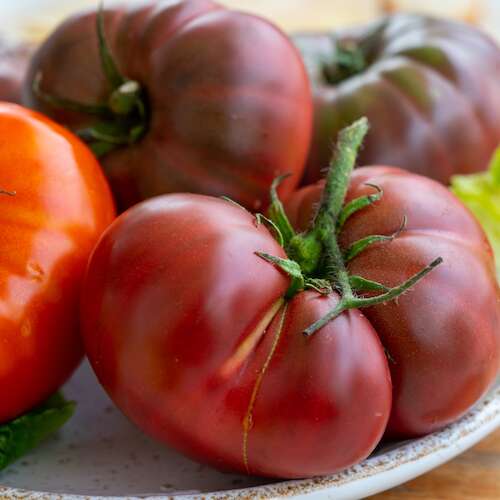 You know when the weather starts to warm up, it's time to plant your tomatoes! Tomatoes are a must-have in any garden, the feeling of satisfaction as you pick a fresh tomato off your vine is simply the best. Plus homemade pasta sauce? Yes, please!
This article from Awapuni Nurseries has plenty of tips on how to get the best out of your tomato plants this season and I have included some clever tomato growing tips from Wendyl too.
Traditionally Labour weekend is the time to plant your tomatoes but anytime from Sept – Early Jan is ok. Tomatoes thrive in a sunny, sheltered spot, protected from strong winds. It's important to switch up your planting positions and plant your tomatoes in a different spot from the previous season. This just helps prevent any disease.
Switch it up by planting tomatoes in pots or if you're low on space you can plant cherry and dwarf tomato varieties in hanging baskets, add some marigolds and herbs to your hanging baskets to attract beneficial insects as well as to ward off any unwanted pests.
Tomatoes aren't a fan of soil with a low PH, if it's been raining cats and dogs in your area, we recommend adding a bit of lime to your soil prior to planting. Lime provides a great source of calcium which encourages healthier and larger fruit and helps prevent blossom rot. Calcium also helps improve the soil structure which encourages earthworm activity.
The nursery stocks a variety of tomatoes, if you are planting tomatoes for bottling then our heirloom mix, brandy wine, black Krim, moneymaker and beefsteak are great options. If you're after smaller varieties that don't require a lot of room and are great for salads and picking straight off the vine then our gold nugget, black cherry and red cherry and acid-free tomatoes will do the trick.
To purchase tomato seedlings from Awapuni click here.
Grab your Awapuni seedlings from your local supermarket, The Warehouse or Bunnings store or alternatively order them from our online shop and have them, delivered straight to your door.
Once you've decided on your varieties and your soil prep is complete, dig a hole approximately 5cm deep and space your tomato seedlings about 40-50 cm apart
If you're companion planting, we recommend planting your tomatoes with basil, marigolds, onions, cosmos, cucumber, lettuce, sage and mint.
Avoid planting with brassicas and corn. Corn is likely to attract fruit worm. We also don't recommend planting your tomatoes with potatoes as potatoes require quite a bit of nutrients which will reduce the growth of your tomatoes, they're also likely to cause blight.
Once planted, spray your tomatoes with liquid copper to prevent fungal disease and add some Tui Organic Seaweed to the surrounding soil to encourage larger and juicy fruit.
When it comes to watering, avoid overhead hosing as it could leave your plants more susceptible to diseases like powdery mildew, rust, and blight. You can retain moisture by adding a layer of newspaper around your plants and then cover the newspaper with pea straw or soil.
Tomato planting tips from Wendyl …
Try training your tomatoes over the spines from an old sun umbrella. I used one last year and trained a plant to grow across the top so that you get an open air canopy underneath. You can then climb in to collect tomatoes – the grandkids love doing that – and it also helps air circulate around the plants, hopefully stopping blight settling in. It does look a bit silly at first but in months to come my four plants should cover it nicely.
From Wendyl's – 'A Natural Year: Living Simply Through the Seasons'
My friend and gardener extraordinaire Lynda Hallinan laughed at me and called me a 'mad hippy' when I told her my tips for growing tomatoes. But I have never had blight on my tomatoes since doing this and so I do it every year!
You simply buy some copper tacks at the hardware store and when your plants are about 10cm tall you carefully insert a tack into the stem about 5cm from the ground. The copper runs through the plant and protects it from blight. Don't forget to pull them out at the end of the season to reuse them next summer!
I also sprinkle about a teaspoon of milk powder and a pinch of potash in the hole before I plant the tomatoes.
If aphids invade then you need to get a good spray in. I have an aphid toothbrush that I keep by my roses and most days I brush off any aphids that I see. This seems to keep them at bay and I also like to let the praying mantises I see on the bushes feed on them. So I only use aphid spray if none of these other methods work.
We hope you have a successful tomato growing season!