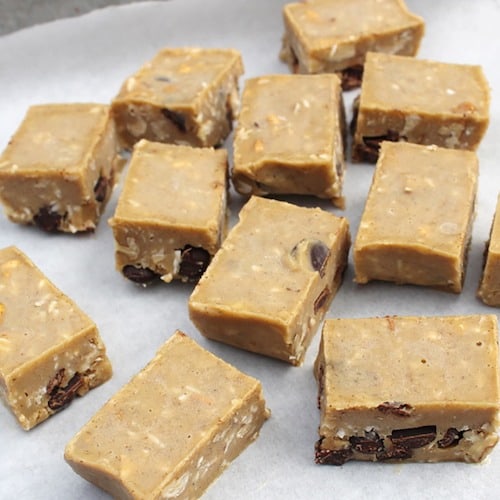 This week the inspirational Wick Nixon from Wicked Wellbeing is sharing this superb gluten and refined-sugar free fudge recipe with us. It's so easy to make and takes only 5 mins to prepare!
Are you a tahini lover like me and are looking for all different ways to use it? Have you ever tried Tahini Fudge? Tahini is ground up sesame seeds, has a light nutty flavour and traditionally used in hummus, but also used particularly in Mediterranean and Asian cuisine. It's full of healthy fats, vitamins and minerals.
If you're looking for something a bit unique, definitely give this fudge a go, it's so easy, tasty and a great nutritious snack – you won't look back! 
If you'd love more delicious easy gluten-free recipes that your tastebuds will love, grab my 'Delicious Gluten-Free Day' recipe guide and enjoy 5 quick and easy nutritious gluten-free recipes, including a breakfast, lunch, dinner, baking, snacks and a delicious dessert! Also includes a baking mix recipe and dairy-free alternatives for all the recipes. Enjoy!
Tahini Fudge
Prep time: 5 minutes | Chill time: 2 hours | Makes: 15 pieces (depending on size)
Ingredients
1 c tahini paste
2 T maple syrup
2 T coconut oil, melted
1/4 – 1/3 c walnuts, finely chopped (depending if you like it really nutty)
1/4 c 70% dark chocolate chips or chunks (I used sugar free)
2 T desiccated coconut
1 t vanilla essence (or ½ t vanilla powder)
pinch salt
Instructions
Using a silicone loaf tin or a normal baking tin, grease and line with baking paper.
In a large bowl mix tahini, maple syrup, coconut oil, walnuts, chocolate chips, coconut, vanilla powder or essence and salt.
Pour the mixture into the pan and evenly spread, smooth out the top.
Freeze for 2 hours or until set. Release from the tin and cut into squares. Store in the freezer. Note: This melts pretty quickly when out of the freezer so eat straight away.
Wick