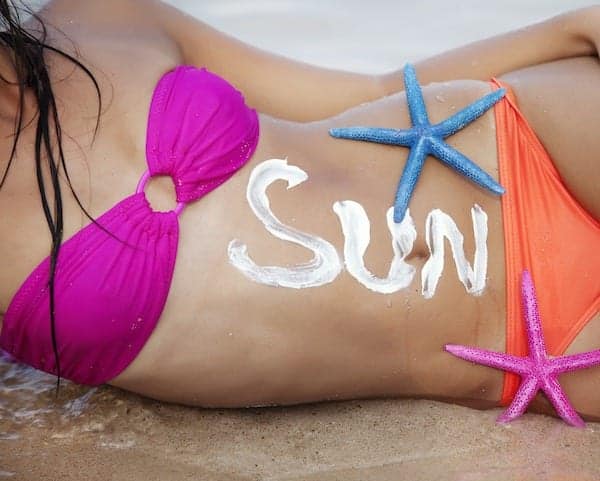 One of the most chemically loaded substances we put on our bodies is sunscreen. A simple natural option is non-nano zinc oxide cream, which you can get at your chemist.
Alternatively you can make this natural sunscreen that won't dry out your skin or cause irritation from harsh chemicals.
Be sure to re-apply after a couple of hours or after swimming. At the end of the day you'll be left with wonderfully moist skin, not that gunky feel you get from commercial sunscreens.
Do be cautious with this and test it yourself as everyone's skin differs.
DIY Natural Sunscreen
75ml sesame oil
15gm beeswax
45gm coconut oil or cocoa butter
120ml filtered water
2Tbs *zinc oxide
1 Tbs wheat germ oil
1 tsp citric acid (from supermarket baking aisle)
20 drops lavender oil
In a double boiler (or put a bowl over simmering water in a saucepan) melt the oils and the beeswax together. Take off the heat and add the water, mixing with an electric mixer until thick and creamy. Then add the zinc oxide, wheatgerm oil, and citric acid. Stir, then add the lavender oil. Over time this will start leaching water – just drain it off.
*Regarding zinc oxide, my preference is to use non-nano zinc oxide powder which you can buy at www.lotusoils.co.nz or you can buy a cream at the chemist which has zinc oxide mixed into a base, usually castor oil. This works too but make sure there are no other added ingredients.
Disclaimer:
*This Recipe is intended for Personal Use only – Resale of untested SPF Value Sunscreen in New Zealand is illegal.
*Allergy Test of Final product before use is recommended
*As the ordinary or otherwise use of products is outside of Wendyl's Green Goddess's control, no representation or warranty, expressed or implied is made as to the effect of such use (including damage or injury) or the results obtained
If you'd like to purchase a totally natural SPF50 reef safe sunscreen here's the link.