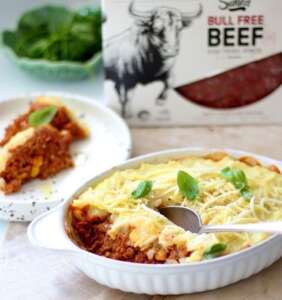 This vegan shepherd's pie is extremely nutritious, high in protein, and tastes absolutely divine!  Sunfed 'meats' cook, feel and taste just like animal meat but are vegan, gluten & soy free and made here in NZ.
With the meatiness of yellow pea protein, bloodiness of NZ beetroot, and fattiness of cocoa butter, this will satisfy even the hardiness meat eater. Naturally nutrient dense, it is packed with protein, iron, zinc, phosphorus, potassium, vitamin D, B12, B vitamins and dietary fibre.
GOOD for you. GOOD for the planet. GOOD for the animals.
Sunfed Bull Free Beef Shepherd's Pie
Serves: 2 | Prep and cooking time: 30mins
Ingredients
For mince:
Your favourite cooking oil
1 packet Sunfed Bull Free Beef Raw Prime Mince
1/4 cup corn kernels
1/2 onion, finely diced
2 garlic gloves, crushed
1 1/2 chopped tinned tomatoes
2 tsp dried Italian herbs
1 Tbsp tamari
Salt and pepper to taste
1/2 cup fresh chopped herbs such as parsley and thyme
For the Potato Top:
3 cups boiled potatoes
3 tsp olive oil
1 Tbsp of your favourite plant-based milk. A neutral tasting variety is best such as oat milk.
Salt and pepper to taste
1/4 cup dairy free cheese to top
Method
Preheat the oven to 180 degrees celsius.
Heat your favourite cooking oil in a pan to medium high heat. Add in Sunfed Bull Free Beef mince and fry it turning gently until browned on all sides (minimal stirring best). Season if desired.
In a separate pan, fry off the onion and garlic until soft. Add the tinned tomatoes, dried herbs, fresh herbs, salt and pepper, tamari, and corn and cook for a minute.
Add this to the Sunfed mince pan and gently turn to combine all ingredients.
In a bowl, mash together the potato, oil, vegan milk and seasoning until smooth.
Transfer Sunfed mince mixture to a baking dish, top with potato mix and finish with the dairy free cheese.
Place in the oven to bake for around 15 minutes.
Serve with some fresh basil to garnish and a crisp green salad.
If you enjoyed this and would like to try a different version of vegan pie check out 'Anita's Anything Goes Lentil Pie' on our blog.