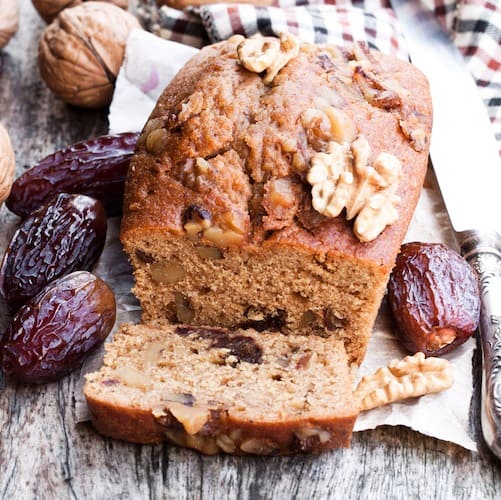 Grant's Mum made this loaf for us a few weeks back and we both loved it. The original recipe is from one of my favourite food writers Annabel Langbein. It's an earthy, spicy, not too sweet flavour sensation.
Slice and enjoy as is or pop in the toaster and lightly coat with butter or your favourite plant based spread. A loaf keeps for about a week in the pantry at this time of year and it freezes well.
Eggless Spiced Date & Walnut Loaf
Ingredients
Prep & Bake Time: 70 minutes | Serves: 12 – 14 Portions
1 packed cup brown sugar
50g butter or plant based spread
2 cups dates
1 Tbsp golden syrup
1 ¼ cups water
1 tsp mixed spice
1 tsp ground ginger
1 cup chopped walnuts
1/2 tsp vanilla essence
¼ tsp salt
2 cups plain flour
1 tsp baking soda
1 tsp baking powder
Instructions:
Preheat oven to 170oC.
Grease a 24cm x 14cm loaf tin and line with baking paper.
Place sugar, butter, dates, golden syrup and water in a large pot.
Bring to the boil and simmer for 5 minutes. Remove from heat and leave to cool for 10 minutes.
Add spices, walnuts, vanilla and salt to the butter mix.
Lastly mix in flour, baking soda and baking powder.
Pour into prepared tin and bake 1 hour or until a skewer inserted in the centre comes out clean.
Leave in tin for 15 minutes before turning onto a wire rack to cool.
Store in an airtight container for up to a week. Serve warm or cold, sliced and lightly buttered. Freezes well and is delicious toasted.
Recipe by Annabel Langbein