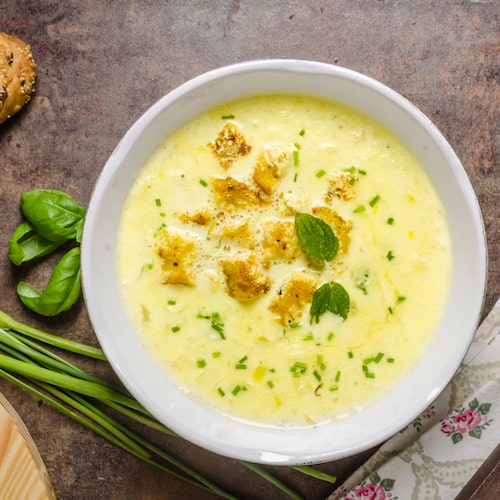 My Mum made this delicious soup a few weeks ago, the recipe was in the Farro newsletter. Instead of crispy chickpeas she put croutons on top with chopped chives and basil. 

Delicately spiced with warming turmeric and coriander, this silky plant-based soup is boosted with brown basmati and coconut milk. 
If you have a coriander phobe at home you can use ground cumin instead of ground coriander and for the drizzle at the end try Cobram Estate Ginger and Lemongrass Oil instead of homemade coriander oil.
Spiced Cauliflower Soup With Crispy Chickpeas
Prep Time: 20 Mins | Cook Time: 40 Mins | Serves: 4-6
Ingredients
For the soup:
2 Tbsp melted coconut or olive oil
1 leek, sliced
1 tsp sea salt
2 cloves garlic, sliced
1 tsp ground coriander (or 1/2 tsp ground cumin)
1 tsp ground turmeric
A good pinch of chilli flakes
½ cauliflower, roughly chopped
1 litre vegetable stock
¼ cup brown basmati rice
200ml coconut milk
For the crispy chickpeas:
1 Tbsp melted coconut or olive oil
1 tin chickpeas, drained and patted dry
1 tsp ground cumin
½ tsp ground turmeric
A pinch of chilli flakes
For the coriander drizzling oil:
1 bunch coriander, stems and leaves
1 clove garlic
1 small green chilli
Grated zest and juice of 1 lemon
3 Tbsp olive oil
Method
Heat the oil in a large saucepan and fry the leeks, with the salt, until softened. Add the garlic, coriander, turmeric, and chilli flakes. Fry for another minute, then add the cauliflower and stir to coat in the spice mix. Add the vegetable stock and rice and simmer for 30 minutes, until the cauliflower and rice are tender.
Allow the soup to cool, then purée in a blender until smooth. Return the soup to the pot and bring back to a simmer, adding a little extra water or stock if it looks too thick. Add the coconut milk, reserving 1-2 tablespoons for garnish, and season to taste.
Preheat the oven to 200°C. In a bowl, toss together the chickpeas, oil, cumin, turmeric, chilli flakes and a little sea salt. Transfer to a baking paper-lined tray and roast for 25-30 minutes until crisp and golden, stirring occasionally, then set aside to cool. Eat on the same day as they will soften up again.
Place the coriander, garlic, lemon, and chilli in a blender and pulse to a purée, adding a dash of water if required. Drizzle in the oil and season with a little salt.
To serve:
Ladle the soup into bowls, top with a scattering of chickpeas or croutons and herbs and then drizzle over the Coriander Drizzling Oil or Ginger and Lemongrass Oil.