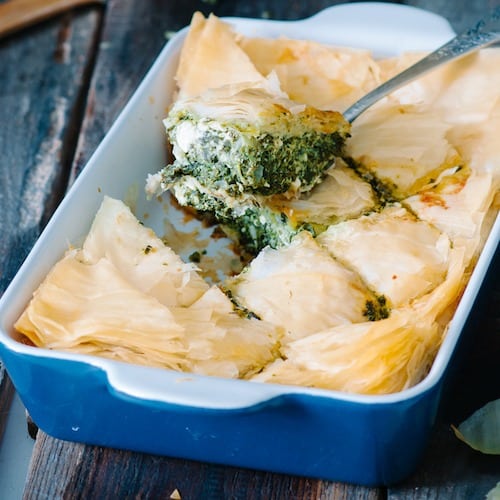 Silverbeet is plentiful at the moment so what better time than to incorporate it in as many dishes as you can. I love it steamed and toasted in a little olive oil, ground black pepper and Himalayan salt – pop a poached egg on top and a slice of vogels on the side and you have a quick, nutritious lunch.
This recipe from Awapuni Nurseries is easy to make and will impress even the hardiest of food critics. Spanakopita is a Greek dish, however this recipe has a Kiwi twist and uses silverbeet instead of spinach which gives it a lovely tang.
Silverbeet Spanakopita
360g Silverbeet
1/2 cup Chopped parsley
1/2 cup Chopped dill
2 cups Spring onions
1 tsp Sea salt
1/4 cup Olive oil
3 cups Onions
Butter or raw egg
250g Feta cheese
12 Filo pastry sheets
Method
Preheat your oven to 180 degrees. Cut off the silver beet's stems and wash and clean the leaves, then drain and cut the leaves into shreds.
Combine the silver beet, parsley and dill, finely chop the spring onions and add to the rest with one teaspoon of sea salt in a bowl. Mix and let stand for approximately 15 minutes, then press out all of the liquid with a spoon. Heat the olive oil in a good quality pan and sautè the chopped onions until transparent.
Add the silver beet mixture and sautè for another three minutes. Add feta cheese and ¼ teaspoon of ground black pepper to the mix. Place six filo pastry sheets on the bottom of a buttered baking pan, brushing each sheet with melted butter or raw egg.
Add the silver beet mixture on top and spread into a thick layer. Add the remaining six filo pastry sheets to the top of the mixture, again brushing each sheet with butter or egg.
Bake at 180 degrees for 20 minutes or until golden brown. Serve and enjoy!