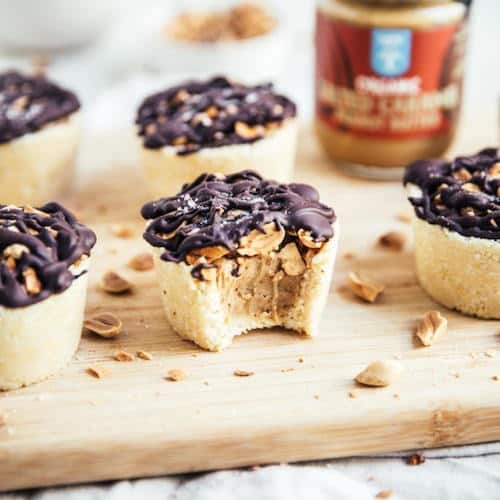 Looking for some inspiration for unique homemade treats this Easter? Avoid the abundance of commercial chocolates on the supermarket shelves and serve these delicious gluten-free Salted Caramel Peanut Butter cakes instead.
Thank you to the lovely ladies at I Am Co for sharing this delicious recipe with us. Check out their delight boxes packed full of healthy treats here.
SALTED CARAMEL PEANUT BUTTER CUPS
Base
1 cup cashews
1 cup Chantal Organics Desiccated Coconut 
1/4 cup Chantal Organics Rice Syrup
1/4 tsp Sea Salt Fine
2 tbsp Chantal Organics Coconut Oil, melted
Filling
4 tsp Chantal Organics Salted Caramel Peanut Butter
10 medjool dates, pitted
1/2 cup Chantal Organics Coconut Cream
1/2 tsp Chantal Naturals Sea Salt Fine
Topping
250g dark chocolate
1/2 cup Chantal Organics Peanuts Roasted
METHOD
Place the cashews into a food processor and blend until they resemble biscuit crumbs. Add the remaining ingredients and blend until the mixture comes together.
Divide the mixture between 6 holes of a muffin pan (or 12 mini muffin holes) and with wet hands press in firmly to create a cup. Place the cups into the freezer to set.
While the cups are setting, roast the peanuts in a 160ºC oven for 10 minutes or until golden. Allow to cool and then roughly chop into pieces.
To make the filling place all the ingredients into a blender and blitz until smooth and creamy.
Spoon the filling into the cups and smooth the tops. Top with the chopped peanuts and press them into the caramel.
Melt the dark chocolate either in the microwave or in a heatproof bowl over a pan of steaming water. Drizzle the chocolate over the peanuts then return the cups to the freezer to set for 30 minutes.
To serve, remove the cups from the muffin pan either by popping out if using a silicone pan, or using a small knife to ease them out of a tin.