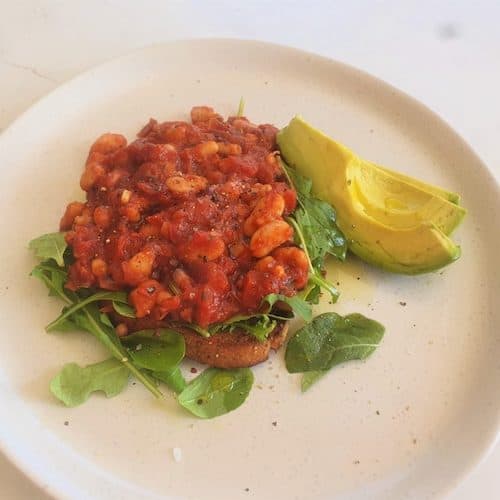 This week Natalie Brady (Holistic Nutritionist and Wellness Exert) is sharing her tasty and nutritious baked bean recipe with us.
I LOVE baked beans, however I stopped buying them many years ago because all store bought baked beans are full of sugar and not-so-good for you ingredients. While being on lockdown for COVID-19 I decided it was time to get creative and make my own healthy version of baked beans, so here you go, it's much more nutritious and delicious as it contains wholefood ingredients. You can enjoy it on its own on toast, or with a side of avocado, or top with eggs if you desire.
Ingredients:
1 tbsp olive oil
½ onion, peeled and finely chopped
2 garlic cloves, peeled and finely chopped
1 tsp paprika
1 tsp dried parsley
1/2 tsp cumin
1 tsp coconut sugar
1 tbsp coconut aminos (or tamari)
1x 400g can cannellini beans, drained
1x 400g can chopped tomatoes
Sea salt and pepper
Serving options: gluten free or sourdough bread, rocket, avocado, poached or fried eggs
Method:
Heat oil in a fry pan over medium heat. Add the onion and garlic and sauté for 2-3 minutes until translucent.
Add paprika, parsley, cumin, coconut sugar, beans, chopped tomatoes and simmer for 5-10 minutes until the sauce thickened. Season with salt and pepper.
Recipe by Natalie Brady, from Natalie Brady Nutrition ©