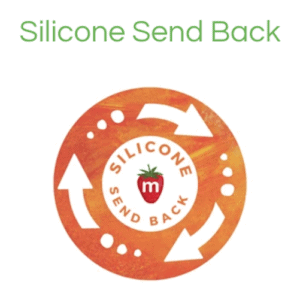 Can I Recycle My Unwanted Silicone?
Have you got silicone products that you don't use anymore pushed to the back of your kitchen cupboards? Old spatulas, silicone muffin cases, baby spoons & baby bottle teats, old drink bottles and anything else made of food grade silicone can now be sent back to a collection point where it will be turned into new products made right here in New Zealand. This Silicone Send Back Program is the first post-consumer silicone repurposing project in the Southern Hemisphere.
 More and more businesses are considering product stewardship which is about taking responsibility for the products they make, sell and buy so their products don't just end up in landfill. That means designing and making products to last, then putting systems in place to enable them to be reused and recycled when they are worn out.
One of these businesses is Munch who feel strongly about leaving no waste behind from their products. They use silicone for their products rather than plastic because of its functional properties (including thermal stability, durability, non toxic and elasticity). Unfortunately there are currently no silicone recycling options in New Zealand but Munch has now put in place the first NZ collection point for their new pilot programme to repurpose silicone: Silicone Send Back. You can now send any brand of food grade silicon products to their showroom in Wellington and they will turn unwanted silicone into new products which are made here in NZ.
Munch Silicone Food Covers are a fantastic reusable and safe alternative to cling wrap and are just one example of the products that are part of the Munch Product Stewardship Silicon Collection Project.
So next time you're sorting through your cupboards think of Munch and their silicon collection program rather than sending it to landfill. To encourage you to do this Munch are even offering a $10 credit to use on their website when you send your old silicone to them. Simply follow these steps:
Complete the Silicone Send Back registration form here to let them know you are sending silicone in and provide your email address (so they can get in touch with you about about your $10 credit).
Include a note inside your package with your name and email address that you entered in the Silicone Send Back registration form so they can email you with the $10 credit to use on their website.
Pop the items into a suitable bag or box and post to them at:  Munch Cupboard, 471 Adelaide Road, Berhampore, Wellington 6023.
For more recycling tips for other household products that can't go in your home recycling bin click here.