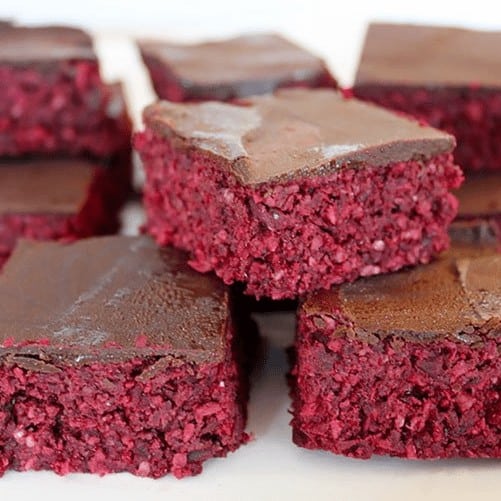 Here's yet another delicious and nutritious recipe from Wick Nixon at Wicked Wellbeing. A super passionate foodie, mother of three teenagers, gluten-free guru and a double award winning cookbook author, Wick aims to inspire and guide you in your quest for nutritious and delicious meals.
This Beetroot Coconut Slice is super easy, full of health benefits from the beetroot, nuts, seeds and psyllium husks, and will satisfy any sweet craving. Store in the freezer to avoid eating the whole lot in one sitting or whip up a batch when you need to take a plate. 
With only 15 minutes of prep time and 1 hour to set in the fridge it's a fantastic recipe to have on hand if you are looking for something unique that looks as good as it tastes.
If you want to make it even more healthy, leave off the icing (but it's divine with it on!). This recipe is a modified take on Dr Libby's Raw Beetroot Mudcake as I've used sunflower, pumpkin seeds and almonds instead of brazil nuts which are more economical, along with the icing being completely different but I highly recommend it as it's totally divine!
Raw Beetroot Coconut Slice
Prep time: 15 mins | Cook time: 1 hour | Total time: 1 hour 15 mins
Serves: 25 pieces
Ingredients
½ c almonds
¼ c pumpkin seeds
¼ c sunflower seeds
1 ½ medium beetroots (or 1 large), peeled and grated
1 c desiccated coconut
¼ c cacao powder
2 medjool dates, pitted and soaked in boiling water for 5 minutes, drained
1 T psyllium husks
1 T maple syrup
Icing
½ c 70% dark cacao choc chips (not cacao nibs) or sugar free chocolate, good options are Healtheries Dark Chocolate Sugar Free Chocolate Drops or Whittaker's 72% Dark Ghana Chocolate
1 T coconut oil
Instructions
Line a 20 x 20cm slice tin with baking paper or a baking sheet.
In a food processor, process the almonds, pumpkin seeds and sunflower seeds until fine, then add the rest of the ingredients and process until well blended.
Press mixture into prepared slice tin and press down firmly with your hands. Put in the fridge.
For the icing, melt the chocolate and coconut oil together in a small pot or microwave dish, spread over the base evenly and put back into the fridge to set, approximately 1 hour. Cut into squares and sprinkle with extra coconut if desired. Enjoy. Keep in the fridge in an airtight container.
For other delicious healthy recipes for all occasions, check out Wick's recipes section on her Wicked Well Being website.