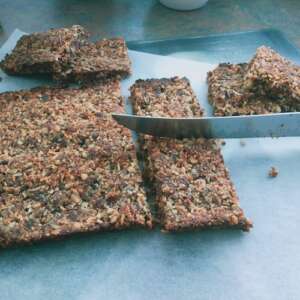 This recipe for Pecan & Coconut Bars is the perfect go to when you're looking for a quick and easy healthy treat. With only 10 minutes prep time they're ready to eat in less than half an hour. They are free from gluten, grains, dairy and eggs and are sweetened with only dates and honey – making them a great snack for the whole family (if you're willing to share!).
Pecan & Coconut Bars
Prep Time: 10 minutes | Bake Time: 15 minutes
Pecans – 1 1/4 cup
Fine desiccated coconut – 1 cup
Dried pitted dates – 1/2 cup
Honey – 2 Tbsp
Coconut Oil – 1/2 Tbsp
Cinnamon – 1/2 tsp
Salt – a generous pinch
Instructions:
Preheat oven to 170 degrees celsius.
Line a baking tray (approx. 15cm x 25cm, or smaller to get thicker bars) with baking paper.
Blend all of the ingredients together in a food processor.
Press the mixture firmly and evenly into your lined slice tray (I use the back of a spoon).
Bake for 15 minutes or until lightly browned.
Let cool and cut into squares (they are delicious warm but be careful when picking them up as they can fall apart easily before they've completely cooled).
Store in an airtight container.