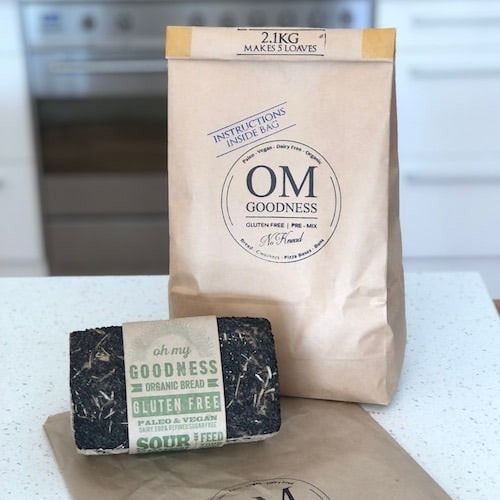 OMG! This range of bread and pre-mix is aptly named. I have not tasted another gluten free bread this good. So far I've had the Manuka Honey & Walnut and Sourdough with Rosemary & Black Sesame (pictured) and I've loved them both. Lightly crusty on the outside and soft on the inside, you don't even have to toast it – which is not usually the case for gluten free bread.
The breads are paleo, organic, dairy, egg and refined sugar free and all the loaves are vegan except one that has Manuka Honey. I've not tried making the pre-mix as yet, Katie went up to Silverdale on Monday to the bakery/bread shop and bought a 5 loaf bag, so we'll know how the home baking goes in a day or two.
OM Goodness Bread was developed at home over 10 years. Primarily to provide high quality nutrition, make great toast and sandwich bread, to have outstanding taste and texture and to be suitable for a child's sensitive palate. The recipe includes kelp powder with over 70 minerals and trace elements, a nutritious stoneground whole buckwheat base and is packed with activated chia and linseeds.​
Goodness bread is soft and spongy, moist and flavoursome. A bread that caters for all, OMG is the perfect centrepiece for weekend picnics and a versatile foundation for school lunches.
Artisan Baked Specialty Bread $10.00 – $13.00 a loaf
The team at OM Goodness bake daily and their range includes: Sourdough with Rosemary & Black Sesame, Sunflower & Sesame, Manuka Honey & Walnut*, Apricot, Raisin & Poppy Seed, Roast Pumpkin, Fennel & Herb and Date & Orange. They also do a range of buns & gourmet cwakers (crackers).
OM Goodness Pre-mix Flours, 2 loaf bag $12.00 or 5 loaf bag $25.00
The pre-mix is organic, gluten, dairy and refined sugar free, paleo and vegan. The base ingredient is fresh, stone milled, whole buckwheat flour, milled in their GF premises. The mix is packed with chia seeds and linseeds and includes Kelp powder with more than 74 minerals. The other key ingredients are Sea Salt and Tapioca flour. 
It is a no knead batter mix, no hassle recipe, perfect for a busy home life – 1 part water to 1 part flour pre-mix and yeast.
The pre-mix can be used to make any variety of bread flavours. Yo.u choose by adding fruits, nuts, seeds, spices, veges or even chocolate to the batter.
This mix can also be used to make cwackers and pizza bases with the addition our cwacker / pizza flour mix.
Ordering
OM Goodness offer nationwide online ordering or if you're in the area visit one of their speciality bakeries in either Hastings or Silverdale, or their Bistro in Central Auckland. Or check out their website for a list of retailers that stock OM Goodness bread throughout New Zealand.