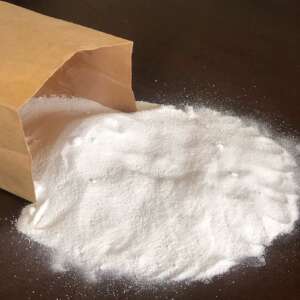 Natural Laundry Powder Concentrate is one of Wendyl's original recipes from the book Recipes For A Cleaner Life. This recipe makes enough for around 30 average washes and can be used with hot or cold water, and in top or front loaders as it doesn't foam.
Unlike commercial laundry powders there are no optic brighteners or enzymes in this mixture, both of which are known to cause problems for people with sensitive skin. The combination of soda ash, baking soda and Castile soap cleans perfectly well without commercial surfactants or other toxins.
You can also choose which essential oils to use for your powder, or leave them out altogether.
This recipe uses soda ash (otherwise known as sodium carbonate) which will give you a smooth soft powder. If you use washing soda instead it will be more like a powdered clay.
To purchase a Natural Laundry Powder Kit click here.
Natural Laundry Powder Concentrate Recipe
1 cup Green Goddess Premium Soda Ash
1 cup Green Goddess Premium Baking Soda
60ml Green Goddess Hemp & Coconut Unscented Liquid Castile Soap
2ml essential oil of your choice
You can purchase essential oils here
Here's how to make it:
Put the soda ash in a food processor slowly drizzle in the Castile to create a frothy paste. Next add the baking soda and the essential oil and continue to process until combined. Break up the powder with a fork then tip into an airtight storage container.
Add the essential oil and continue to process. Keep in an airtight container and use 1Tbs for an average load.
This recipe makes approximately 32 tablespoons.
Check out Wendyl's recipe for DIY Natural Laundry Liquid here.