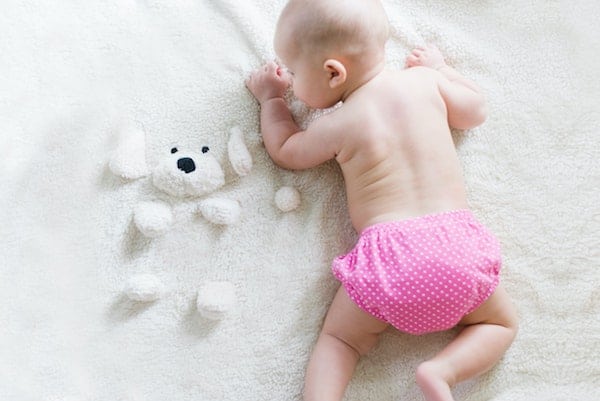 Nappy rash is a common problem with babies and can be caused by a number of things; using commercial wet wipes containing an array of ingredients that are detrimental to skin health, something in their diet, or simply too much moisture on their skin.
If you are breastfeeding and your baby comes out in a rash, think back and check that you didn't introduce a new food which might be producing the effect, and then avoid it for a few months.  Keeping a food diary can also help you find the culprit.
Here are some simple all-natural nappy rash treatments to try.
Always use a totally natural baby wipe solution and non-toxic wipes, such as Green Goddess Baby Wipe Solution made from rose water, witch hazel and filtered water on a chux cloth or a Thinkwise chemical free baby wipe.
To protect baby's skin try using Wendyls Baby Balm or these two solutions …
Aloe vera gel
This is a marvellous substance for rashes (and burns). See if you can source real aloe vera gel from a health shop, with no additives such as colourings or preservatives. Or simply grow an aloe vera plant yourself.
I have several and they are very easy to keep alive. You can slit open a leaf by running a sharp knife down the centre of the flat side. You then open out the leaf surface to reveal the clear, healing gel.
Scrape it off, trying not to get any of the green outer layer, as this can cause a reaction in some people. Use this clear gel and apply it to your baby's bottom at every nappy change.
Karitane Ointment
This is an old, quintessential Kiwi favourite which has been used by generations of mothers. The chemist used to make it up for people, but I have found an old recipe and adjusted it.
The original recipe uses petroleum jelly, which comes from a mineral source and supports the petroleum industry which is depleting the earth of its natural resources, so I have swapped it out for shea butter.
Mix together in a bowl:
50g shea butter
1tsp non nano zinc oxide powder
3 ml almond oil
½ tsp lanoline (you can leave this out for a vegan version)