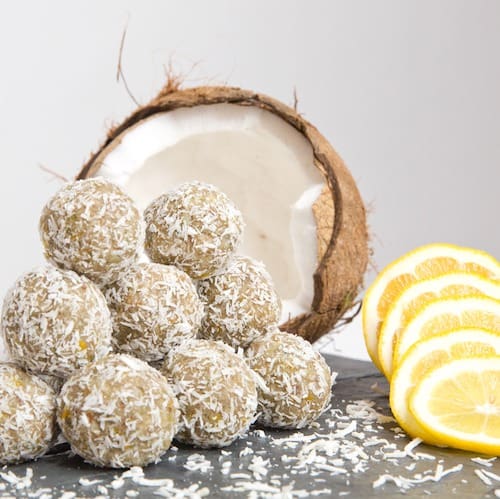 With lemons being abundant right now, try out these divine nut free and dairy free Lemon Bliss Balls from Wick at Wicked Wellbeing. Just throw everything into the food processor, roll them into balls and you're done! Low in sugar (and only natural sugars at that), they're a great afternoon or after dinner snack, or brilliant for nut free lunchboxes!
This recipe is out of Wick's 'Healthy Lunchbox Love' Award winning cookbook – find out more details here: https://wickedwellbeing.com/book2/.
Lemon Bliss Balls
Prep time: 5 minutes | Chill time: 1 hour | Serves: 16-20 balls
Ingredients
4 medjool dates, pitted and soaked in boiling water for 5 minutes, drained
½ c sunflower seeds
½ c pumpkin seeds
1 c desiccated coconut
1 t vanilla essence (or ¼ t vanilla powder)
pinch salt
rind of 2 medium lemons
juice of 1 ½ medium lemons
¼ c coconut oil, melted
extra fine coconut for rolling
Instructions
Place everything in the food processor (except extra coconut for rolling) and blitz until well combined.
Using damp hands, form into round balls and roll in the extra coconut.
Chill for a minimum of 60 minutes or until firm.
Store in the fridge in an airtight container. Suitable to freeze.