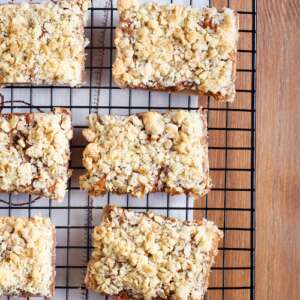 These apple pie oat bars are a super easy, healthy and kid-friendly snack that use ingredients that you'll likely already have in the pantry. The main ingredient is unsweetened apple puree which is easily made using peeled apples and water.
This is a fantastic way to use up apples that have lost their crunch, the bars are free from refined sugar, wheat and dairy (if you use coconut oil instead of butter).
I found this recipe on mykidslickthebowl.com. which is a fantastic resource when cooking for kids big and small, I highly recommend you check it out. Stacey is a NZ mum of four whose focus is baby-led weaning, healthy kid-friendly recipes, and no fuss family meals.
Left Over Apple Pie Oat Bars
Prep Time: 5mins | Cook Time: 25mins | Makes: 16 Bars
Ingredients:
1 cup quick cook oats
1 cup rolled oats
2 Tbsp chia seeds
1.5 tsp cinnamon
30g melted butter or coconut oil
1 cup apple purée or applesauce, recipe here
1-2 Tbsp honey or pure maple syrup (optional)
Instructions:
In a medium bowl, mix the oats, chia seeds and cinnamon.
Add the melted butter and apple purée, mix to combine.
Line a baking tray (I use a 20cmsq cake tin).
Press the mix into the bottom of the baking dish so that it is an even layer, it should be around 1.5 – 2cm thick.
Bake at 180 degrees celsius or 375 Fahrenheit for 25 mins, it should be firm to the touch but not hard.
Cool and slice into squares.
Bars are best stored in the fridge.
To view the recipe with pictures and in depth instructions click here