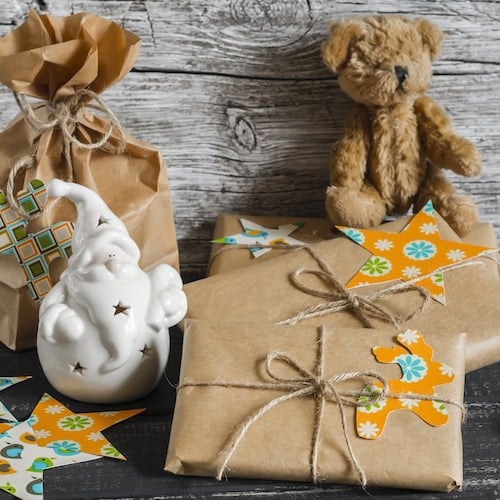 Here are some budget conscious ideas for gifts you and your children or grand-children can make at home this Christmas.
Make up spice mixes. Collect some old glass jars (baby food jars are excellent) and help your child make Moroccan spice rubs, Italian herb mix or use our recipe for herbed salt.
There are great recipes on the internet. Then get them to write up recipe ideas using the spices on a nice piece of card and attach to the filled jars.
Do you have herbs in the garden which can be separated out? All types of mint grow well from cuttings, also seeds such as basil and parsley will germinate quickly in the warmer weather.
Recycle old plastic plant pots from the garden centre by giving them a coat of paint and decorating with stickers or ribbon, pot up some herbs or scatter seeds on some seed raising mix, and you have a wonderful gift for someone's windowsill. You can also attach a recipe using the herb for pesto or mint sauce written out by your child.
Picture frames make great presents for new parents or grandparents. Buy simple wooden frames cheaply from second hand stores then decorate by gluing on buttons, shells, dried flowers, or older children might like to paint a design. You can also get your children to frame one of their own works of art.
Cards, gift cards and wrapping can often be really expensive, so buy some brightly coloured pieces of card and paper from an art supply or stationary shop and get your children to paint Christmas trees, stars, and angels using glitter as fake snow to make cards. Or use up left over pieces of felt by cutting out shapes and sticking them on. For the wrapping paper try using potato cut stamps to make a pattern on plain newsprint.
Make bath bombs. Mix 1 ½ Tbsp citric acid with 2 Tbsp baking soda. Add ½ tsp natural food colouring and 5 drops essential oil. The mixture should be sticky, if not add a few drops of olive oil and press into moulds, you can use silicon ice cube moulds or any other moulds you have. Leave to set overnight then take out of the mould and put into jars. Click here to buy our Bath Bomb Kit.
Make body oils by mixing 50mls of avocado, sweet almond or apricot kernel oil (or a mixture or all three) or the cheaper, but just as effective, sunflower, olive or wheatgerm oils. Add to this 50 drops of essential oil. You can go with one, such as lavender or mix some oils together. A good blend is lavender, geranium and jasmine.