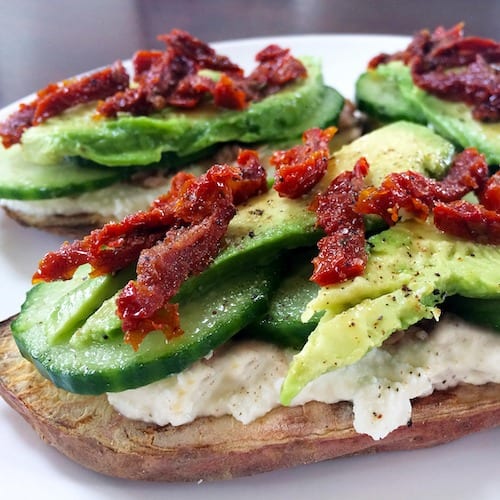 The perfect gluten-free lunch alternative to bread from Wick Nixon at Wicked Wellbeing. Wick is a super passionate foodie, a mother of three teenagers, a gluten-free guru and a double award winning cookbook author.
Her aim is to inspire, support and guide you in your quest for nutritious and delicious meals, with less stress and way more enjoyment, using everyday seasonal ingredients you'll already have in your pantry. Let's enjoy this divine Kumara Toast!
Kumara Toast with Toppings
Prep time: 5 minutes | Cook time: 10 minutes | Serves 2
1-2 medium sized red or orange kumara
Toppings of your choice: 
Suggestions include: hummus, avocado slices, rocket or spinach leaves, dairy free feta, cream cheese or ricotta, dairy free pesto, sliced cucumber, sliced tomato, sliced red pepper, a good grinding of black pepper.
Cut off the ends of the kumara and scrub clean leaving the kumara skin on to retain the fibre. 
Preheat your sandwich press (or you can use a toaster if you don't have one). 
Slice kumara into about ½ cm – ¾ cm thick pieces lengthwise. Cook in the sandwich press with the lid down or in the toaster until brown and cooked through – there is no need to precook the kumara first, it will cook through using either of these methods – you will need to cook it 3 or 4 times in the toaster. Once cooked, allow to cool and then top with your favourite toppings. This is a fantastic well balanced lunch that will keep you sustained and full for hours!

To enjoy more gluten-free goodness from Wick, join her FREE Facebook Group, "Easy Gluten-Free Eating for Busy Mama's" on this link. https://www.facebook.com/groups/193802471400505.