As you make the transition from chemical beauty products to natural ones it can be a very confusing process. My advice is always throughly check ingredients and certification if applicable.
If it's certified in Europe, such as Weleda and Dr Hauschka, then you know that you can believe it, however, that process is long, expensive and involved and only those who can really stand by their product will go to the trouble. To give you some idea of how rigorous their system is, in 2014 the European Union had restrictions on 1,328 ingredients while America only had restrictions on 11 ingredients.
When we put a product on our skin most of it (60%) eventually makes it's way into our bodies, choosing products that are as natural as possible will ensure you aren't coming into contact with ingredients that are harmful.
We are very careful about what goes into our Green Goddess face creams, balms and deodorants, and all the ingredients are listed clearly on our website under each product description. Over our entire range of products that we hand make here in NZ we only use 22 ingredients! That includes laundry, cleaning, baby, deodorants and face creams.
Check out this chart.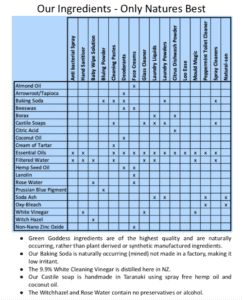 When it comes to ingredients the top five to avoid are: parabens, formaldehyde, petroleum/petro-chemicals, sodium laurel sulphate/sodium laureth sulphate and fragrance/parfum – have a look at this article that explains why.