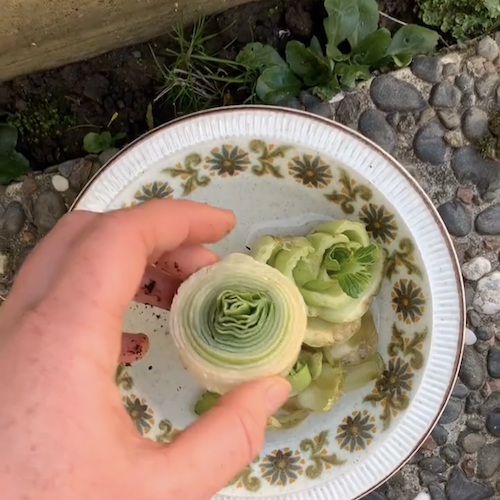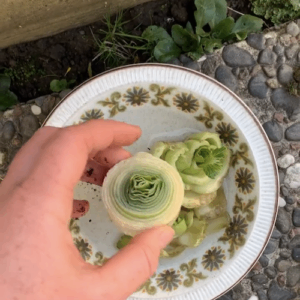 I love seeing what Ethically Kate is up to on Instagram, especially during lockdown – she is so inspiring, passionate and funny. Kate always has great tips for living more sustainably and with minimal waste. This article was inspired by one of her posts and those are Kate's leeks grown from kitchen scraps about to be planted out in her garden. If you'd like to follow Kate, click here for Instagram, and to check out her website (a lot of great content including an ebook you can sign up for and some fab specials on an array of eco conscious products) click here.
There are a number of vegetables that you can grow yourself from scraps that would usually end up in the compost bin.
Carrots, beetroot, celery, leeks, spring onions, shallots, garlic, turmeric, ginger, lemongrass, basil (I've not had great success with basil), potatoes, kumara, some lettuce such as cos, avocados (this takes a long time and even longer in the garden) and pineapple (not so easy in NZ).
One of our readers emailed us and said that capsicum can also be grown easily.
"Thanks for the newsletter, just thought I would share something with you that a friend of mine suggested and I tried, when you cut open a capsicum just cut out the middle part where all the seeds are and put the whole thing in a pot of soil, you will be amazed at how many seedlings you'll get. Plenty to share with friends and family."
For most vegetables all you have to do is cut off the plant's base leaving a couple of centimetres. Place it cut side up in a shallow saucer and add water. Change the water regularly and wait for growth. Placing your saucer on a sunny window sill will speed up the process.
For detailed instructions click on this link.
This is my avocado tree that I grew – not on purpose as it sprouted in my compost bin. I'll be waiting many years for any fruit. In a few months I shall relocate it to a spot on the lawn.
One of my other favourite eco warriors, Juliet Dale from The Great Eco Journey also shared these photos of her vege's growing from scraps on her instagram page.
You may have seen Juliet's natural sun screen review that we published a while ago (if not click here), or her article on Weird Recycling Tips. Juliet speaks at events around Aotearoa encouraging, inspiring and helping others to lighten their footprint. If you'd like her to speak at your school or work place you can contact her here.