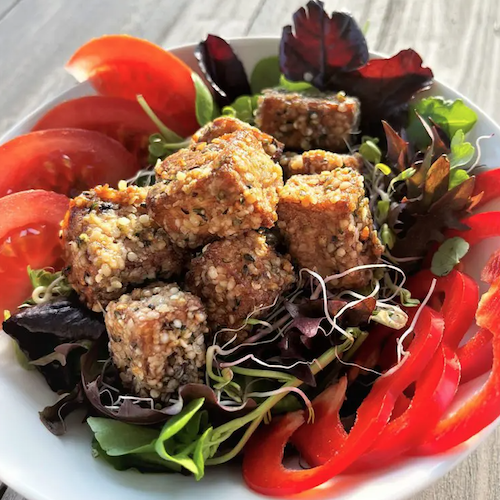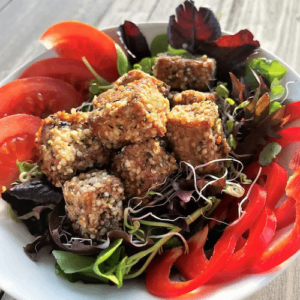 Coating your tofu in hemp hearts is a great way to add a little more crunch and texture to tofu, plus you'll get more nutritional value with each bite. Even the kids and devout meat eaters in your family are going to love tofu done this way.
For little extra zing, add a little chilli powder, or drizzle with sweet chilli sauce and soy sauce combined before serving.
Hemp Heart Crusted Tofu
1 block tofu (we used Bean Supreme Organic Tofu)
1 tbsp sesame oil (or use olive, canola oil)
1 tbsp soy sauce (or tamari for GF)
1 tbsp almond flour
1 tbsp cornflour
1 tbsp hemp hearts
Directions
Drain water from the tofu and gently squeeze as much water as possible using your palms.
Place tofu on a plate then place another plate over it. Then place a heavy object such as a skillet to help squeeze additional water for 30 minutes or so. Drain water in between that accumulates on the plate.
Cut tofu into cubes and use a paper towel to absorb additional moisture and pat dry. Repeat the process 2-3 times.
Preheat the oven to 200C.
Line a baking sheet with parchment paper or silicon mat.
In a medium bowl, combine tofu with sesame oil, soy sauce (or tamari) and combine well.
Combine almond flour, cornflour, and hemp seeds until it evenly coats tofu. (Repeat, if you want an extra thick and crunchy coating)
Arrange the tofu in an even layer on a baking sheet.
Bake for 30-35 minutes. Turn at 15 mins and continue baking until golden.
Serve with Hemp & Wasabi Mayo
Check out our blog for other tofu recipes, the Vietnamese Slaw with Crispy Baked Tofu is also particularly good!