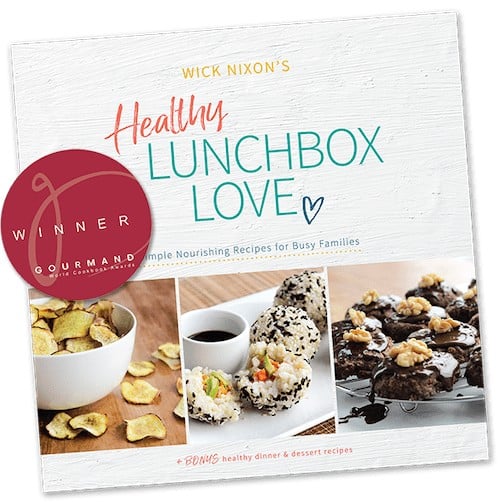 Healthy Lunchbox Love – 20% off 
Half way through the year and just sick and tired of making school lunches? Need some new creative ideas? We're delighted to bring you this very special cookbook from Wick Nixon, 'Healthy Lunchbox Love' – which was a WINNER in the Gourmand Cookbook Awards in the Family and Self Published categories!
Wick has filled it with 50+ gorgeous wholesome recipes over 80 pages that she knows will make that dreaded morning lunchbox routine so much easier for you. You'll be whipping up nutritious goodness in a flash that the whole family will love! The recipes are so easy that even your kids will be making them on their own. There are bonus dinner and dessert recipes too.
The Lemon Bliss Balls recipe that we recently shared in our newsletter is just one of the divine recipes that you'll find in Wick's cookbook.
Perfect timing with school holidays around the corner to get creating in the kitchen. Use the code 'wicked20' on checkout to enjoy a 20% discount. Offer expires Sunday, 25th July.
Head to https://wickedwellbeing.com/book2/ to take a look.
The book includes allergy icons so that you can easily see allergens in a recipe, a Healthy Swap Out Guide and a comprehensive glossary. For more information and reviews from people who have made the recipes click here.