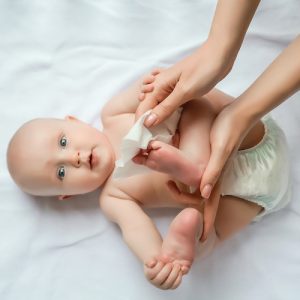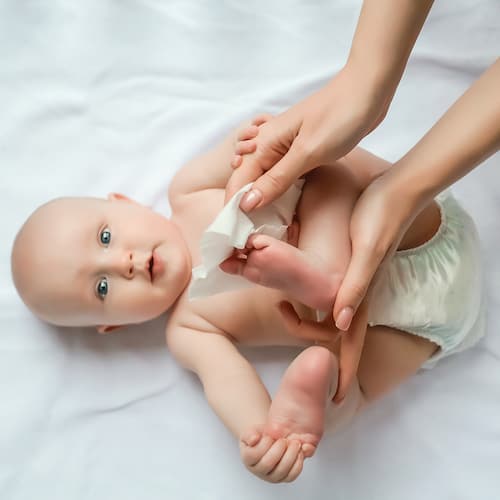 Along with frequent changing, the next best thing you can do to prevent nappy rash is to use our super soothing, totally natural, Baby Wipe Solution. Made from nothing but filtered water, witch hazel hydrosol and rosewater hydrosol – it's effective and gentle.
Green Goddess Baby Wipe Solution is naturally antibacterial and does not contain any preservatives, gently cleansing the skin without drying it out. Because there are no nasty chemicals to react to, nappy rash will be a thing of the past.
Commercial baby wipes often contain many ingredients that can irritate the skin, one of the worst offenders is the preservative isothiazolinone, also known as methylisothiazolinone or kathon.
This preservative can cause nasty allergic reactions and should be avoided at all times, it's also in an array of personal care products so read ingredients labels carefully. This article explains what it is, where it can be found and what damage it does.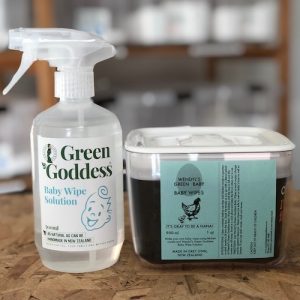 You can also use Green Goddess Baby Wipe Solution as a refreshing, pH balancing facial toner and as a hand and face cleanser, perfect for when you're on the go. Each bottle comes with a spray trigger so it's easy to use with a dry natural wipe. We recommend biodegradable, chemical free, skin safe wipes from Thinkwise. Or you can cut up natural bamboo reusable wipes which can be washed many times over.
If you'd like to keep your wipes wet and ready for instant use place your cloths in a resealable container and pour over some of the baby wipe solution, just enough to wet the wipes. Store the rest of the solution out of the sun in a cool place and refill your container when needed. We sell a PBA free cube that's perfect for wipes here.
Few things are worse than an irritable baby with sore red rashes, if your baby does have skin issues apply Green Goddess Kawakawa & Aloe Baby Balm, it works wonders on dry, inflamed, sensitive skin and heals nappy rash within days as long as the cause of the rash has been eliminated.