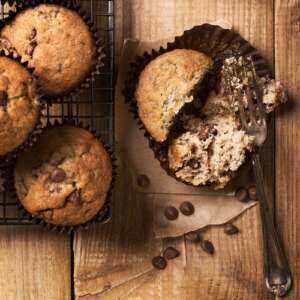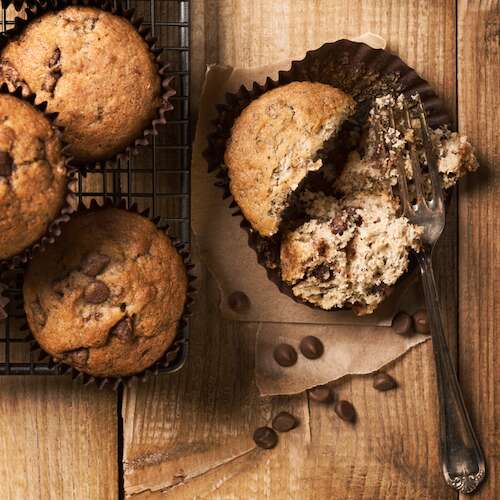 I cannot wait for you to try these eggless banana muffins. They are so good! Portia our daughter is the muffin queen and these are the best so far. Soft, moist and delicious. You'll will want to make them all the time!
This recipe is super easy and a great way to use up old bananas (that I always seem to have a lot of). I love them with the chocolate chips, but you can leave them out or swap them for nuts – walnuts work really well.
Eggless Banana Choc Chip Muffins
1½ cups all-purpose flour
½ teaspoon baking powder
½ teaspoon baking soda
½ teaspoon salt
½ teaspoon ground cinnamon
3 medium ripe bananas
6 tablespoon melted butter or plant based spread (85g)
⅔ cup brown sugar 
⅓ cup buttermilk (see below)
1 teaspoon vanilla essence 
½ cup chocolate chips (or you can use walnuts instead)
Method
Preheat your oven to 220° C and grease a couple of muffin trays. Portia made one tray of large muffins and a tray of small muffins.
Use 1/3 cup of milk and 1 teaspoon of acid. You can make regular buttermilk or vegan buttermilk, it's easy to make, combine the milk with lemon juice or apple cider vinegar and let sit for 3-5 minutes until it curdles.
Sift flour, baking powder, baking soda, salt, and ground cinnamon together and stir well to combine. Place the bananas in your mixing bowl and mash with a fork. Then add the melted butter, vanilla essence and brown sugar. Mix in mixer until combined, add the dry ingredients and drizzle in the buttermilk. Mix together but don't over mix.
Next fold the chocolate chips (or nuts) into the batter until evenly distributed. Spoon the batter into the muffin trays, filling each up to the top but don't over fill.
Bake for 5 minutes at 220°C keeping the muffins in the oven, then reduce the oven temperature to 180°C without taking the muffins out. Bake for a further 13-14 minutes or until a skewer inserted in the center comes out clean.
Remove the muffins from the oven and let them cool for 5 minutes, transfer onto a cooling rack and let cool before serving (if you can wait that long).