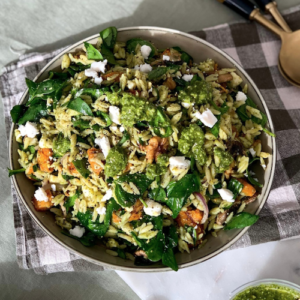 This pumpkin pesto pasta from Tess Eden @Eden.Vegan is the perfect easy dinner, mid-week meal or pot luck dinner. It's made with fresh basil pesto and vegan-friendly feta and can easily be adapted to use up any veggies you have on hand. You could even get creative with your choice of nutty toppings.
For more delicious vegan recipes check out Tess's fantastic new cookbook that has just been released! Eden Vegan: Plant-based recipes for every day – for more info and to order a copy click here.
Eden Vegan's Pumpkin Pesto Pasta
Ingredients:
1 cup orzo pasta
1/3 cup plant based pesto from @genoesefoods
1/2 cup cooked pumpkin
1/3 cooked red onion
3 brown mushrooms, sliced
1/4 cup walnuts, chopped
Method:
Preheat the over to 200 degrees fan-bake and roast pumpkin chunks for 20 minutes.

Place orzo in a saucepan with boiling water and a large pinch of salt. Bring to a boil and simmer for 12 minutes.

Meanwhile add thinly sliced red onion and mushrooms to a pan, frying until soft.

Fold all ingredients together with a generous amount of basil pesto, walnuts, salt and pepper.
CLICK HERE FOR THE RECIPE VIDEO
Tess has a wealth of knowledge on how to live a vegan life, and is an active member of New Zealand's thriving vegan community. You can find Eden Vegan on Instagram where Tess demonstrates how easy it is to be vegan by sharing recipes, tips, and tricks for people wanting to eat more plants.