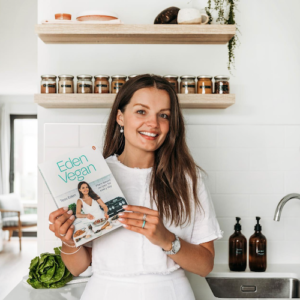 Hot off the press! Tess Eden's new cook book 'Eden Vegan: Plant-based recipes for every day' has just been released this week. As well as over one hundred recipes for easy vegan dishes using common whole-food ingredients, Tess shares her tips for going vegan including what plant-based essentials to have on hand in your kitchen. Whether you're looking to make the transition to a completely vegan lifestyle, or just keen to eat more plants, this fabulous book would be a valuable resource to help you on your way.
Read on for more information about what's inside Tess's book, or to order yourself a copy.
Eden Vegan: Plant-Based Recipes for Every Day
A friendly entry point to plant-based cooking, with veganised Kiwi classics, budget-friendly recipes and meals to whip up in a minute from what's in the pantry.
Every dish in this book is 100 per cent vegan, made with whole-food ingredients that can all be found on the shelf at your local supermarket.
No fancy 'superfoods', no expensive powders—just good, fresh ingredients! Eden Vegan has 100+ plant-based, quick and easy to make recipes. Including some Eden Vegan classics, and loads of new ones.
About Tess Eden …
Eden Vegan – Tess Eden is an author and a vegan content creator from Wellington, New Zealand. She first made the leap into a vegan lifestyle six years ago, after enjoying a vegetarian diet for 11 years. Tess came to veganism for ethical reasons, and has since become an advocate for the environmental and health benefits a meat-free diet provides. Tess has built up a wealth of knowledge on how to live a vegan life, and is an active member of New Zealand's thriving vegan community. She has a large online platform which demonstrates how easy it is to be vegan by sharing recipes, tips, and tricks for people wanting to eat more plants.