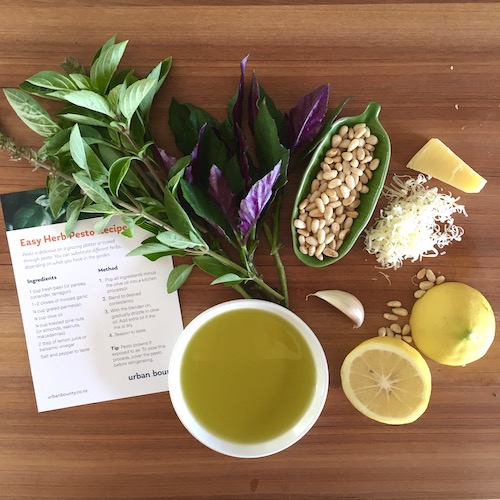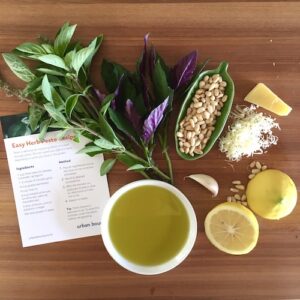 Pesto is delicious on a grazing platter, tossed through pasta or drizzled on your favourite vegetarian pizza. Basil is the traditional base for pesto, however you can substitute different herbs, depending on what you have in the garden, and add a little spinach to make your pesto go further.
I've recently discovered Okinawa Spinach and Perennial Basil –  the perfect edible plants for an autumn garden, and ideal for making this winter pesto from the lovely ladies at Urban Bounty.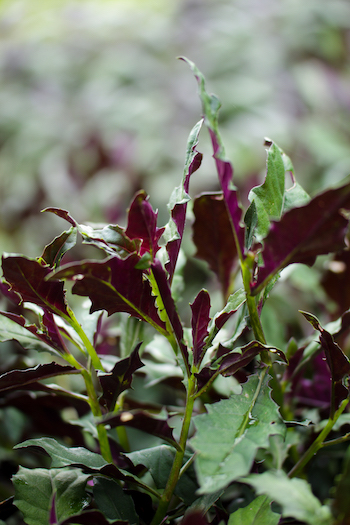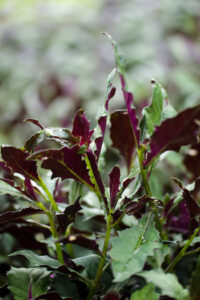 Tropical Okinawa Spinach is a bushy leafy green with gorgeous purple and green leaves.  While it isn't strictly Spinach (it belongs to the Daisy family), the leaves can be used just like baby Spinach leaves – raw in salads, or quickly tossed through a stir fry at the end of cooking.  Better yet, it will grow most of the year round in frost-free areas.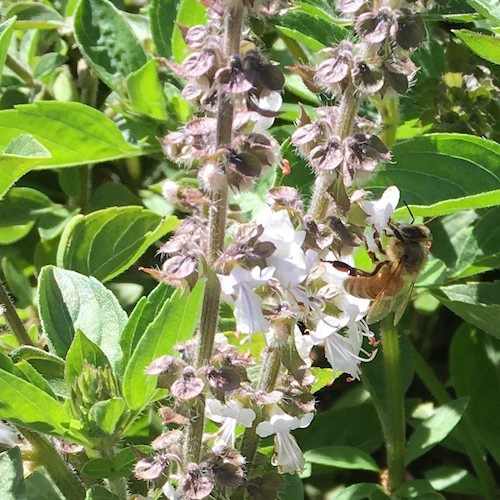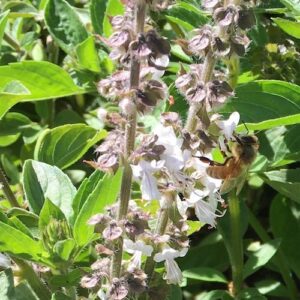 Like summer Basil, Perennial Basil is an aromatic bushy herb, but with a slightly stronger aniseed flavour.  With its gorgeous purple flowers it makes a wonderful border plant and is a great option for patio pots.  The best thing about Perennial Basil is that it keeps growing in autumn when Sweet Basil has finished for the season.  It is a great winter alternative for pasta sauces.
Easy Winter Herb Pesto
Ingredients:
3/4 cup fresh basil (or parsley, coriander, tarragon)
1/4 cup fresh spinach
1 – 2 cloves of minced garlic
1/4 cup grated parmesan
1/4 cup olive oil
1/4 cup toasted pine nuts (or almonds, walnuts, macadamias)
Salt and pepper to taste
2 tbsp of lemon juice or balsamic vinegar
Method:
Pop all ingredients minus the olive oil into a kitchen processor.
Blend to desired consistency.
With the blender on, gradually drizzle in olive oil. Add extra oil if the mix is dry.
Season to taste.
Tip: Pesto browns if exposed to air. To slow this process, cover the pesto before refrigerating.
If you're making a grazing platter consider adding this super easy Homemade White Bean Hummus and Hemp Seed Dallas Crackers.