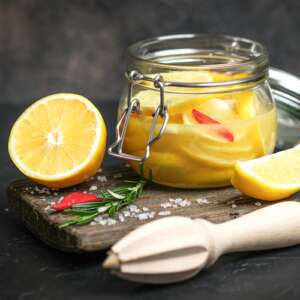 Preserved lemons are lemons with superpowers! They add an exotic, intense, sweet and tangy flavour to any dish, equally good in desserts as they are in savoury dishes. With lemons in abundance right now is a great time to preserve them.
Once preserved they will keep indefinitely, as long as the brine is covering them and they are sealed well in sterilised jars.  This recipe is for one jar but you can multiply it to make as many as you like.
Easy Preserved Lemons
Sterilise a medium jar that will fit a couple of lemons, also sterilise the lid
You'll need two good sized lemons and another two for juicing
Sea Salt – 2 teaspoons per lemon
Fresh red chilli deseeded and sliced – optional
Method
Slice 2 lemons into 1/8- 1/4 inch slices (you'll use 2 more for juicing).
Sprinkle salt on the bottom of the jar, then layer your lemon slices (and sliced chilli if using). Salt each slice as you go and press down as you add more slices/chilli until you reach the top leaving a gap of 1cm at the top of the jar.
Once the jar is filled, press the slices down even more and squeeze over more lemon juice so the slices are completely covered. Weight the lemons down under the brine with a heavy stone or water filled plastic bag. Cover.
Pop them in a cool cupboard for at least a week (the longer the better the flavour – three weeks is as long as I can wait).
You can tell when the lemons are preserved as the skin starts to go translucent and the tangy salty brine will go syrupy.
Store for as long as you like in a cool dark place and once opened keep them in the fridge.
When you finish your jar or jars you can reuse the brine by popping some fresh lemon slices (not wedges) in while in the fridge, they won't be quite as good but will still be yummy. You can also add the brine to soups and stews.