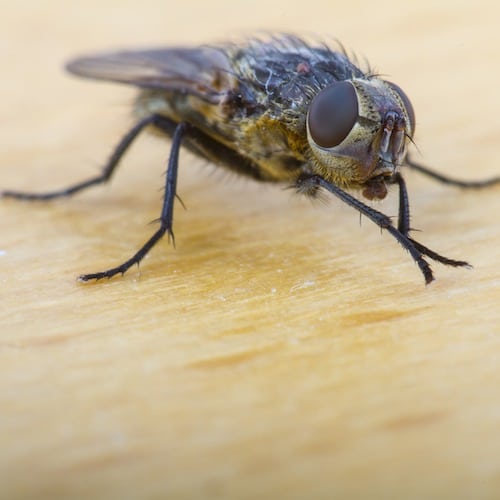 This previously tested recipe is one from our archives that is effective in keeping flies off surfaces such as tables, benches and window sills.
The solution is fast and easy to mix up – spray it on surfaces where files are a problem. You can also use it to remove fly spots on walls and ceilings; once gone give the area a good spray to prevent them from coming back.
Flies do not like the smell of peppermint and eucalyptus, or citrus, but I found these two oils together worked best with the vinegar to prevent flies. Both essential oils and the double strength white vinegar are natural insect repellants. This spray is safe to use around kids (over six months of age) and animals as long as you don't spray it on them.
Don't substitute apple cider vinegar for white vinegar as it will attract files not repel them, if you use regular white vinegar the spray won't work as well as using double strength.
DIY Surface Fly Spray
500ml spray bottle
450ml filtered warm water
1/2 tsp  Green Goddess Premium Baking Soda
1 tbsp Green Goddess Premium Double Strength White Vinegar
3 drops Green Goddess Unscented Liquid Castile Soap
5 drops Peppermint Essential Oil
5 drops Eucalyptus Essential Oil
Put all the ingredients into your spray bottle and shake well to combine. To inhibit flies spray a mist over surfaces and leave to dry. Can be used on bench tops, tables, countertops, window sills and some soft furnishings (do a spot test first) where files are a problem.
This solution will not kill flies, if you have a particularly bad problem you'll need a few other methods to get rid of them. Try installing magnetic screens to windows and doorways or making fly-spheres for each door/entrance area.