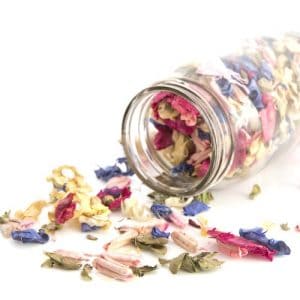 Here's a delightful way to get out in your garden and preserve the fragrant smell of summer while we are still able to enjoy this warm weather.
This potpourri is so satisfying to make and will give your home a lovely natural floral scent. There's no need to purchase anything to make this as you just need the petals from whatever is currently flowering in your garden.
This is another one of Wendyl Nissen's recipes from her book 'A Natural Year'.
Potpourri captures the fragrance of a summer garden and stores it away for autumn and winter days when it's perfume will bring happy memories of sunny days.
Gather the petals of whatever scented flowers you have in your garden. Carnations, sweet peas, stock, heliotrope and rose all make lovely potpourri.
The petals may be gathered, dried by laying out in a warm place on a piece of paper, and added to a jar day by day as they dry.
Each time the petals are added, put in a pinch of spices, such as cinnamon, allspice, nutmeg and cloves.
Bundle into fabric pouches to keep in underwear drawers or simply keep in bowls dotted around the house.