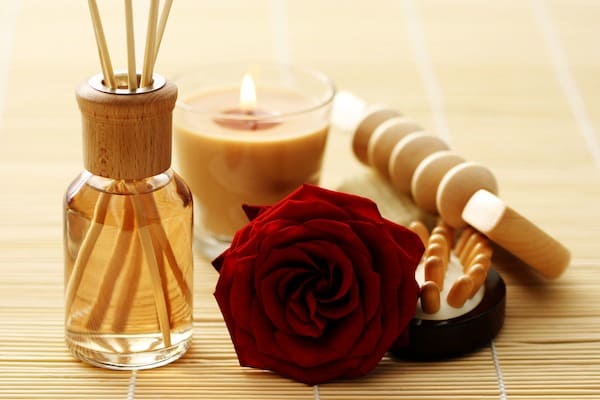 Are you feeling a little stressed out? This lovely blend of essential oils can help to calm and uplift. 
Making a natural diffuser blend will not be as strongly scented as a store bought diffuser that uses a. man-made fragranced oil, however it will be a lot better for you as pure essential oils have many healing benefits.
You can use an up-cycled small necked jar or vase with reeds (we sell them separately here) or you can purchase a one of our stylish glass diffusers and reeds here.
DIY De Stress Reed Oil Diffuser
1/4 Cup Sweet Almond Oil* or Di Propylene Glycol
3 ml Sandalwood Essential Oil – improves mental clarity and is a natural aphrodisiac
1.5 ml Frankincense Essential Oil – supports the immune system
1 ml Bergamot Essential Oil – eases anxiety
Combine really well then pour into your diffuser bottle. You can also use a small jar or ceramic vase but keep in mind that the smaller the top of your vessel – the slower the evaporation. 
Place the reeds in and let them soak for about five minutes then flip them. Do this every week or whenever you'd like a stronger scent.
*Previously I've used sweet almond oil as the carrier but found that over time the oils didn't travel that well up the reeds. We've now added another option of a carrier liquid that works a lot better.
Di Propylene Glycol is clear, non-toxic and odourless, it travels up the reeds  with ease and lasts a lot longer, however it's not a completely natural product. For more information and to decide if it's right for you go here.
Check out this article for how essential oils help to combat stress and anxiety