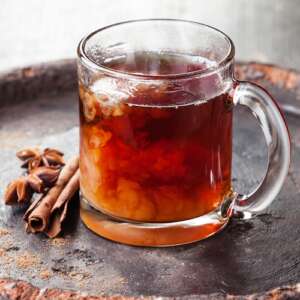 I came across this recipe when I was looking for ways to use herbs. Under my pile of books was one for herbal remedies, where I found this flavourful homemade chai that's perfect for after dinner. It has no caffeine and has plenty of digestion improving herbs for gut health.
The fenugreek, fennel and caraway seeds all prevent gas and are settling for the stomach, the liquorice root is soothing and helps to boost immunity, and the orange peel and mint promote optimum digestion and provide healthy antioxidants. This recipe makes enough for six cups of tea, but if you don't have six people, you can still make the full recipe and keep it in a jar in the fridge ready to reheat when needed.
Digestive Chai Tea
2 Tbl fennel seeds
2 Tbl fenugreek seeds
2 Tbl caraway seeds
2 star anise
1 tsp dried mint
3/4 tsp chopped liquorice root
5 slices ginger
peel of one small orange
8 cups filtered water
Place all of the ingredients except for the peppermint into a saucepan on the stove, cover and simmer for fifteen minutes. Remove from the heat and add the peppermint, allow it to steep for another ten minutes keeping it covered. Once ready strain, pop in a mint leaf or two and drink as is or add a little almond or oat milk.
Click here to read an article on our blog about ten more herbal teas that can be beneficial to your health.