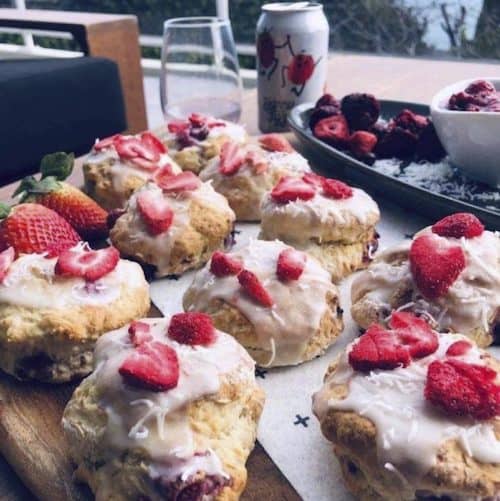 What a delicious alternative to the typcial savoury cheese scones! This one is so delightfully easy that it's sure to be a winner for budding bakers once school is out in a few weeks.
You could try mixing up the fruit option, or using an alternative if raspberries aren't quite your fave.
Thank you to the lovely ladies at I Am Co for sharing this scrumptious recipe with us.
Dairy Free Raspberry Scones
3.5 cups self-raising flour (can be substituted for GF Self rising flour)
2 Tablespoons Lakanto Sweetener (optional)
1 cup Raspberry Skinny Fizz
1 cup coconut milk
1 teaspoon vanilla extract
1 Cup Frozen Raspberries
Topping
Freeze dried strawberries
Method
Preheat the oven to 220 degrees.
Sift flour into a large bowl and stir through Lakanto sweetener. Add the coconut milk, vanilla, followed by the Skinny Fizz and mix until slightly combined, lastly add the raspberries.
Mix in the bowl until the dough just starts to come together and then plop it out onto a well-floured bench so it doesn't stick.
Knead lightly so the dough comes together smoothly and then roll out to about 2cm thick with a rolling pin. Try not to knead the dough too much because this will make the scones harder and tougher.
Use a small cookie cutter – approximately 5-7cms across – to cut out the scones. Re-roll out the extra bits of dough until all the dough has been used!
Place the scones onto a baking tray lined with a greased sheet of baking paper. Space the scones out with at least 2cms space between them, because they do expand. Bake in the oven for approximately 12-15 min, until firm and lightly browned.
Serve topped with icing (recipe below) and freeze-dried berries, or your favourite jam.
Icing (optional)
1 & 1/3 cups icing sugar
1/4 cup + 1 Tbsp coconut milk
Whisk together sugar and coconut milk until smooth. The glaze should be the consistency of glue. If the glaze is too thick, add more coconut milk, 1 teaspoon at a time.