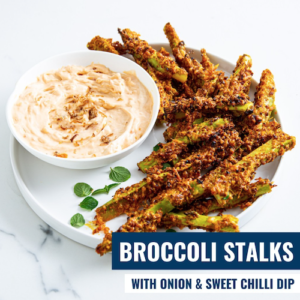 Broccoli has more health benefits per bite than any other vegetable making it the perfect addition to any meal if you're looking to load up on vitamins, minerals and antioxidants. If getting the family to eat plain broccoli is a challenge for you then try serving up these crunchy broccoli stalks which are coated in a tasty blend of spices and Parmesan cheese. Paired with reduced cream and sweet chilli dip you might be surprised how quickly broccoli can disappear!
This yummy recipe is from Leader Brand, a New Zealand horticultural business that is 100% family owned and operated. They  grow, harvest and distribute a wide range of fruit and vegetables both nationally and internationally.
Visit Leader Brand on Instagram here
Crunchy Broccoli Stalks with Dip
Prep Time: 15 mins | Cook Time: 20 mins | Serves: 4
Ingredients:
4 large broccoli stems, peeled
1 teaspoon garlic salt
1 teaspoon smoked paprika,
2 teaspoons curry powder
½ teaspoon onion powder
¼ tsp ground pepper
100g finely grated Parmesan cheese
2 tablespoons olive oil
Onion and sweet chili dip
300g can reduced cream
1 x onion soup packet
2 tablespoons sweet chilli sauce
1 tablespoon lemon juice or vinegar
Directions:
Preheat air fryer to 200°C. Line a tray with foil.
Trim the florets and leaves from the heads of broccoli. Freeze or store the florets for another use. Slice each broccoli stem in half, and each half into three pieces. Place in flat dish and drizzle over olive oil.
Mix together the garlic salt, paprika, curry, onion powder and ground pepper and Parmesan cheese in a shallow bowl.
Dip each broccoli stems in the parmesan mix and turn over to coat well.
Arrange the stalks on a lined tray. Bake in an air fryer for 8 minutes. Serve hot or cold with dip. Alternatively bake in 200°C oven for 15-20 minutes, until crispy.
To make the dip, whisk together the reduced cream with onion soup, sweet chilli sauce and season with lemon juice or vinegar. Leave to chill for 10-20 minutes before serving. Garnish with fried shallots and fresh herbs.