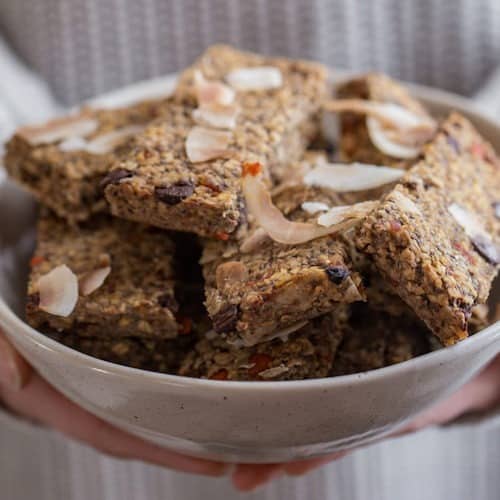 If you're finding yourself reaching for comfort food between meals then try these delicious snack bars from the lovely ladies at I Am Co. These are fabulous to have on hand when you're looking for a quick energy hit that's both sweet and healthy. Add them to the kids lunch boxes to help keep them sustained throughout the school day.
For vegan bars just check the ingredients of the dark chocolate to make sure it's dairy-free.
I Am Co has lovely delight boxes that are delivered monthly, filled with the latest and greatest health products delivered to your doorstep, starting from $35 per month.
Coconut, Goji & Dark Chocolate Bars
Ingredients
Wet:
1 cup dates
3 tbsp of coconut oil
1/4 cup water
Dry:
3 cups oats
1/3 cup goji berries
1/3 cup coconut chips
1/3 cup chocolate chips
1 tsp of cinnamon
Extra coconut chips to sprinkle on top
Chia gel:
4 tbsp of chia seeds
1 cup water
Directions
Preheat oven to 180°C and line a slice tin with baking paper.
Combine the chia seeds and water. Leave until a gel forms (about 10 minutes).
Place dates in a pot with the coconut oil and heat until the dates are soft.
Place the dates, coconut oil and water in a blender or food processor and blend to create a smooth date paste. Scoop the paste into a large bowl.
Add the oats, goji berries, coconut chips, chocolate chips and cinnamon to the date paste.
Add the chia gel to the mixture and combine. Pour onto a baking tray, spreading evenly, and sprinkle extra coconut chips on top.
Bake in the oven for about 35 minutes or until the top turns golden. At this point, take the tray out of the oven and leave to cool for at least 30 minutes before cutting into bars (it will crumble if you don't allow it to cool!).