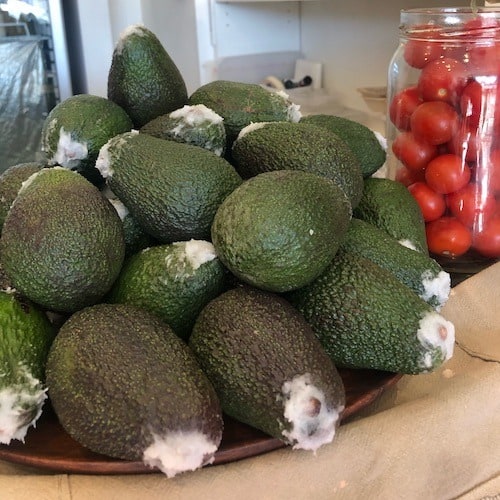 I absolutely love avocados! They are so versatile, taste great and are highly nutritious too – one of nature's superfoods that were popular before superfoods were even a thing.
During avocado season when they are very inexpensive, buying quite a few at once saves an extra trip to the fruit and vege shop. Storing them in the fridge prolongs the ripening, but what else can you do to keep them in perfect condition?
First of all when purchasing your avo's check that they are not over ripe by gently pushing the little bit of stalk that has been left in the end (leaving this on also helps to keep them from over ripening).
If there's no movement the avocado is very firm and will generally need a fews days to ripen, if it goes in a little it is on the way to being ripe so ready to eat the next day, if it goes in a medium amount it's ready to eat now and if it goes in a lot its likely to be over ripe. Of course this method is not foolproof, but I have found it to help when choosing.
I don't recommend removing the stalk to see if its ripe as this will then make the avocado ripen faster, which is not helpful if you want them to last a while at home. And if you change your mind and don't take the avocado that you've removed the stalk from, it will then ripen faster in the shop which is not great for other customers or for the shop owner who may end up with too many over ripe avocados and have to dispose of them.
This clever method of keeping avocados from over ripening only works if the stalk is till intact. I discovered this hack when down in Christchurch picking up sushi for my sister's wedding. The lovely lady at Sawa Hara opened up early for me and while there I discovered this fantastic tip.
All you need to do is smear dollop of coconut oil around the top of the avocado covering the area where the steam is attached – that's it! This will keep them from ripening too fast. You can keep them on the bench or put in the fridge which will harden the coconut oil and do an even better job.
If you are ever in Sumner I highly recommend the sushi at Sawa Hara (@sushisumner), it's made fresh throughout the day using organic and local ingredients with delicious combinations and natural flavours. There are plenty of vegetarian options.