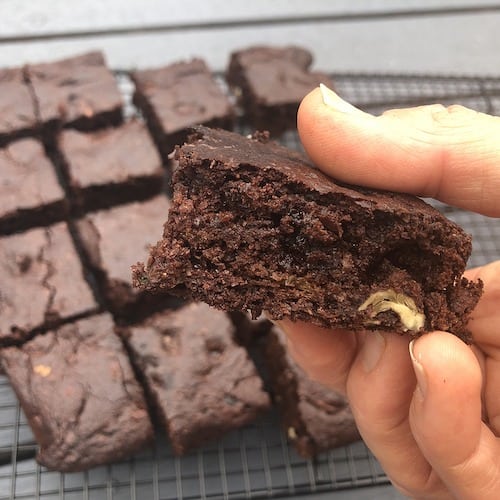 Another divine recipe from Wick Nixon at Wicked Wellbeing. Wick is a super passionate foodie, a mother of three teenagers, a gluten-free guru and a double award winning cookbook author. Her aim is to inspire, support and guide you in your quest for nutritious and delicious meals, with less stress and way more enjoyment, using everyday seasonal ingredients you'll already have in your pantry.
This Chocolate Zucchini Brownie is a perfect way to use up an abundance of zucchini in your garden. It's super simple to make, along with being gluten-free, dairy-free and nut-free (if you omit the walnuts), it's a winner for everyone! Perfect to store in the freezer for lunchboxes or just when you need a slight sweet treat that is actually good for you!
If you're new to gluten-free eating or you've been dabbling for a while but are still a bit confused or overwhelmed, Wick invites you to join her ' 3 Day Bootcamp – Your Gluten-Free Kickstarter' kicking off on Monday, 15th March. Over the three days you'll discover the foods you need to avoid, the abundance of foods you can enjoy and gluten-free flours, snack and lunch ideas – everything you need to support you on your journey. Sign up here… www.wickedwellbeing.com/bootcamp
Chocolate Zucchini Brownie
Cook time: 30 minutes | Serves: 20 Squares
Ingredients:
1 c grated zucchini, squeezed of excess moisture using a paper towel
1 large egg
½ c tahini (sesame seed paste)
¼ c pure maple syrup
⅓ c coconut sugar (or brown sugar)
1 t vanilla essence
½ c cocoa powder (or cacao powder)
2 T coconut flour
½ c desiccated coconut
½ t baking soda
1 t baking powder
¼ t salt
2 T melted and slightly cooled coconut oil
¼ c chocolate chips, dairy free if required
2 T cacao nibs, optional
½ c chopped walnuts, optional
sea salt, for sprinkling on top
Preheat oven to 180 C. Line an 20 x 20 cm square dish with non-stick baking paper or a baking sheet.
In a large bowl add your squeezed grated zucchini, egg, tahini, maple syrup, coconut sugar and vanilla, stir until smooth. Gently stir cocoa powder into the batter, mixing well.
Next add in coconut flour, desiccated coconut, baking soda, baking powder, salt and finally the melted coconut oil. Stir until well combined. Fold in chocolate chips (and walnuts if you are using).
Pour into prepared pan. Sprinkle with extra sea salt over the top.
Bake for 30-35 minutes or until toothpick inserted into centre comes out clean (it should not be completely wet, but a little gooeyness is just fine).
Allow to cool completely before cutting into squares.
Store in an airtight container in the cupboard or fridge for 3-4 days or freeze.
To enjoy more gluten-free goodness from Wick, join her FREE Facebook Group, "Easy Gluten-Free Eating for Busy Mama's" on this link. https://www.facebook.com/groups/193802471400505.