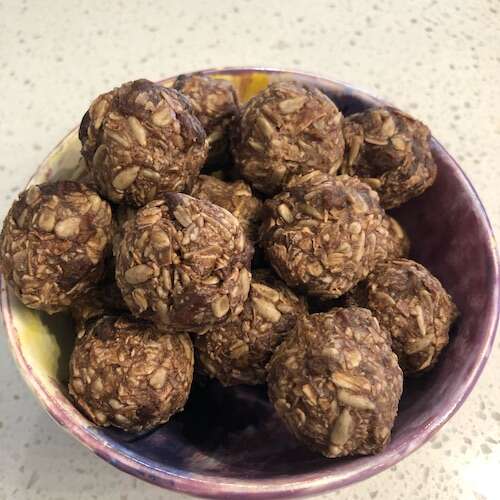 Whoever came up with the idea to roll a bunch of healthy, satisfying, and tasty ingredients into a ball should be awarded a prize! They really are one of the easiest things to make, with so many nutrients and no added sugar they are the perfect snack.
They are a good balance of healthy fats, plant-based protein, and complex carbohydrates for an actually satisfying and beneficial snack!
Chocolate, Oat & Nut Energy Balls
1 ½ cups rolled oats
1/2 cup sunflower seeds
1/2 cup smooth peanut butter
200g medjool dates
4 tablespoons honey
2 tablespoons cocoa powder
1 teaspoon vanilla
2 tablespoons dark chocolate chips
Dash of salt
Method
Put the medjool dates in a blender and chop for about 30 seconds so you have small chunks.
Place the dry ingredients into a bowl with a dash of salt and stir.
Melt the peanut butter, vanilla and honey, add the dates and mix in a blender or food processor (whichever is easier). Once combined add the dry ingredients and mix everything together by hand. If the mixture is too dry, add a little water and if it's too sticky, add more oats. It will depend on the type of oats you use.
Cover the bowl and place it in the refrigerator for about 30 minutes so it's easier to press into balls.
When you are happy with the consistency roll the mixture into balls. Store in a sealed container in the fridge.
Find more snack ball recipes on our blog including Wendyl's 'Amazing Amazeballs' and Wick Nixon's 'Lemon Bliss Balls'.  If you want an (almost) ready made option try Cinderella's Better Bakes 'Bestest' Blissballs' from Countdown, they are really chocolatey and delicious.