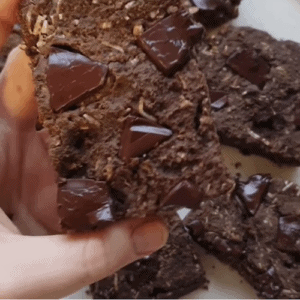 Chickpeas (also known as Garbanzo Beans) are incredibly versatile and are high in vitamins, minerals, fibre and protein. They're commonly associated with hummus or added to salads or curries but have you ever tried using them in your baking?
This week we are sharing a delicious gluten-free and vegan brownie recipe from inspiring Holistic Nutritionist Natalie Brady. This Chickpea & Chocolate Brownie incorporates all the goodness of chickpeas, tahini and coconut – a great alternative to regular brownie's.
This one is for all my vegan followers or followers with egg intolerances that need a healthy, wholefood brownie recipe. Chickpeas are a great plant-based source of protein, they are also a carbohydrate source. And coconut is a fantastic healthy fat source.
Chickpea & Chocolate Brownies
Ingredients:
1 can of organic chickpeas, drained and rinsed
1/2 cup tahini (almond or peanut butter would work too)
1/4 cup maple syrup
1 Tbsp melted coconut oil
1 tsp vanilla extract
1/4 cup ground flaxseeds (almond flour would work too)
1/4 cup raw cacao powder
1/4 tsp baking soda
1/4 tsp baking powder
Pinch of sea salt
1/2 cup shredded coconut
1/2 cup chopped dark chocolate
Instructions:
Preheat oven to 175 degrees celsius.
In a food processor, blend chickpeas, tahini, maple syrup, coconut oil, and vanilla.
Once blended, add in ground flaxseeds, cacao powder, baking soda, baking powder, and salt. Continue to process, scraping down sides as necessary until smooth.
Once creamy and smooth, take off lid (I also remove blade) and stir in chopped chocolate and shredded coconut.
Pour into greased or lined 8×8 pan (sprinkle with extra chopped chocolate if desired). Bake for 21-23 minutes.
Voila!
You can find more of Natalie's wholesome recipes on our blog –  her Paleo Protein Bars are delicious!