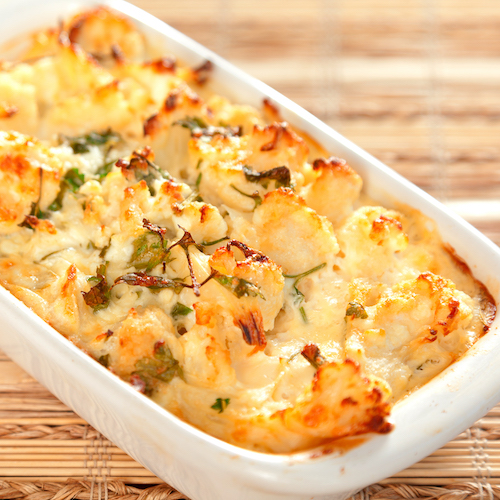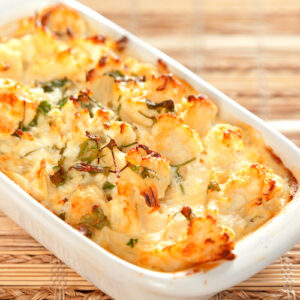 This delicious potato and cauliflower bake is comfort food at its finest! The perfect addition to any meal, whether it's weeknight dinners or a pot luck with your best friends. The simplicity of this vegetable casserole never disappoints.
For this au gratin style dish, cubed Agria potatoes and cauliflower florets are layered and baked in a cheesy sauce with nutritional yeast for extra flavour creating a flavour full creamy delight that will have everyone coming back for more. 
Cheesy Cauliflower & Potato Bake
1/2 a cauliflower in small florets 
400g agria potatoes peeled and cubed (about 4 large)
4 tbsp butter or plant based spread
2 tbsp flour
3/4 c warm milk
1/2 c tasty cheese grated
1/4 c Parmesan cheese grated
1/4 tsp grated nutmeg
1 tbsp nutritional yeast (you can leave this out but it does boost the flavour)
1/4 tsp salt
1/4 tsp pepper
Chopped parsley or chives
Instructions
Preheat the oven to 200 celsius.
Cut the potatoes and cauliflower into similar sized pieces and bring a pot of salted water to the boil and add carefully add the cubed potatoes. Let them boil for 6 minutes then add the cauliflower and cook until both are tender then drain and let steam in a colander to remove moisture.
In a medium saucepan over medium heat, melt 2 tablespoons of butter, when melted add flour and whisk to combine. Slowly add milk, stirring constantly until the sauce thickens. If your sauce is too thick add a little more milk but you don't want it to be overly runny. Remove from heat.
Add the remaining 1/4 teaspoon of salt, pepper, nutritional yeast, half the tasty cheese, parmesan and nutmeg. Taste and add more salt if needed.
Layer the cauliflower and potatoes into a medium sized baking dish. Cover each layer with sauce leaving enough sauce for the top layer.
Sprinkle the remaining 1/4 cup of tasty cheese on top of the gratin and drizzle with 2 tablespoons of melted butter/spread and parsley or chives (or both).
Bake for 30 to 40 minutes until vegetables are tender.  Then grill for 2-3 minutes until top of the gratin is golden brown.