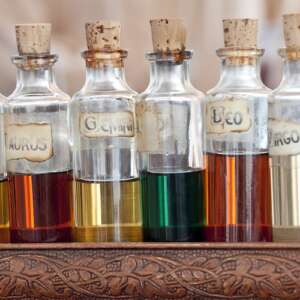 I'm not a big fan of body creams, simply because oils are so much more nourishing and leave your skin with more gleam and shine than the most expensive body shimmer. They also hold a scent well all over your body, so that you smell gorgeous all day – and night.
Body oils are very simple to make by adding some essential oils to a carrier oil, such as sweet almond or apricot kernel oil. And when you grow tired of one scent, you can simply whip up another or have several: one for day, one for night and one for weekends.
The other advantage of essential oils is their ability to alter your moods. For a bit of fun this article explains which essential oils go with your star sign.
Feeling down? Why not mix up an oil using ylang-ylang, geranium and sandalwood. It's best not to combine more than five essential oils as the scent will be lost – a bit like mixing too many paint colours and ending up with a dull brown.
Combine 1 drop of essential oil for every 1 ml of carrier oil.
Here are some great blends that I think you'll enjoy, if you have one favourite smell you like, then just use that one essential oil. I love the scent of rose so will always default to my rose body oil. And if you're not sure what you want just sniff a few of your essential oil bottles and use the ones you like. Your body can tell you what scent you need.
To purchase Lotus Essential Oils Click here.
DIY Body Oils To Suit Your Mood
Weepy, sad, depressed – use a blend of ylang-ylang, rose geranium and sandalwood.
In the mood for romance – ylang-ylang is the key here. Just use that or combine with rose and jasmine.
Stressed out – use a blend of eucalyptus, rose geranium and lavender.
A bit of a cold – use a blend of peppermint, eucalyptus and lavender.
Need energy – use a blend of rosemary, orange and peppermint.
Need to concentrate – use a blend of bergamot, peppermint and rosemary.
Want to be the life and soul of the party – use a blend of bergamot, clary sage and jasmine.
A good night's sleep – lavender is the key, but if used in too much concentration it can actually perk you up so blend it with rose geranium and sandalwood.
Need sweetening up – blend together lavender, ylang yang and orange sweet or for slightly less sweet try bergamot, orange sweet and cedarwood 
Feeling Sultry – this blend of frankincense, patchouli, cedarwood, myrrh and vanilla oils is lovely.
If you'd like to make a winter essential oil diffuser blend check out this recipe.